Deutsche Bahn begins search for sustainable alternative drives and fuels
With a target of becoming climate-neutral by 2050, Deutsche Bahn has begun testing and implementing new sustainable fuels and drives.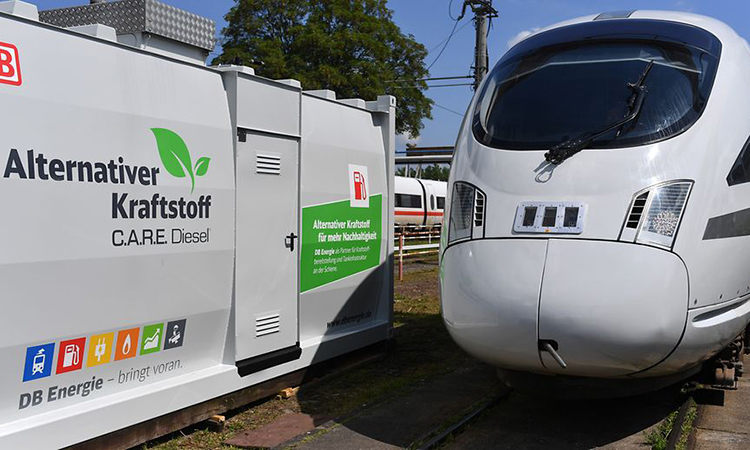 Credit: Deutsche Bahn
Deutsche Bahn (DB) is working to operate without conventional diesel in order to become a climate-neutral company by 2050. To this end, DB is examining various options for sustainable alternative drives and fuels.
The advanced TrainLab test train is already running on an eco-diesel, which reduces CO2 emissions by 90 per cent. From October 2020, the Sylt Shuttle between Westerland and Niebüll will be on the road for a test with climate-friendly eco-diesel. Further tests in regular rail operations are also planned.
Deutsche Bahn Board Member for Digitalisation and Technology, Sabina Jeschke, said: "The railways will only become climate-neutral if we say goodbye to diesel. We have to radically reduce the consumption of fossil fuels and bring them to zero. In 2050, DB will no longer drive a single vehicle with diesel. With an annual consumption of more than 250 million liters of diesel, this is a challenge – and we are tackling it. So that alternative fuels and drives can be used on the rails, on the road and in the air, the transport sector and industry must push research and development forward massively."
In the advanced TrainLab and the Sylt Shuttle, two variants of eco-diesel are currently being used, which are made entirely or partially from processed organic residues and waste. The diesel engines of the test train ran smoothly and did not have to be technically upgraded. Preparations are currently underway to use eco-diesel on a larger scale in regional transport in Baden-Württemberg.
As there is no 'one size fits all' solution for replacing diesel fuel, DB is testing alternative fuels as well as alternative drives. The first hybrid vehicles are already in use. There will also be battery-powered trains that will be charged on so-called overhead line islands, a short electrified section, for the next section of the route. Trains with hydrogen drives are also planned.