New milestone reinforces Keolis' presence in the Netherlands
On the same day Keolis launches rail network in North Rhine Westphalia, Germany, operation of regional trains commences in the Eastern Netherlands…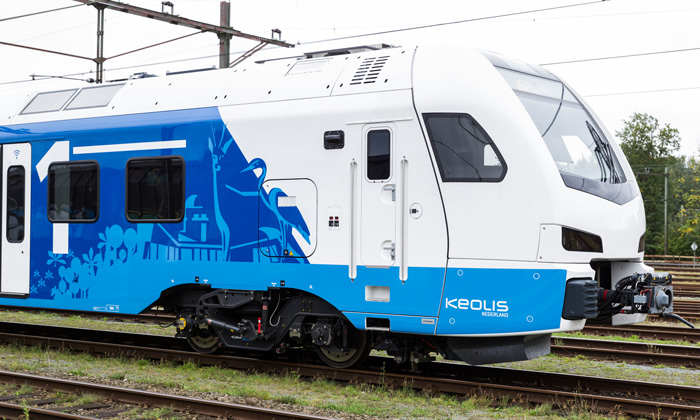 Through its Dutch subsidiary, Keolis Nederland, Keolis started operations of the regional trains in the Province of Overijssel (Eastern Netherlands). This is the second rail network to be operated by Keolis in the country and the first network to be operated under the new brand Keolis Nederland.
The regional commuter trains will offer passengers a higher quality experience with an excellent level of service and comfort. This new milestone reinforces Keolis' presence in the Netherlands and builds on its experience in regional train management already gained in Germany, the United Kingdom and the United States.
Speaking on the occasion, Bernard Tabary, Keolis CEO International, said: "We have a great deal to celebrate today. Not only are these our first projects in the Netherlands being operated under the name Keolis Nederland, but they also expand our rail business. We have 16 brand new electric trains to start the service and the experience to ensure that, as cities and towns develop and expand, our rail services will help to meet the demands of the PTAs and our passengers, ensuring future proofing, sustainable and mobility".
Keolis' contract for the second rail was awarded by the Province of Overijssel to manage the network from 2017 until 2032. This will generate revenues of €300 million for the duration of the contract. There will be 16 electric Stadler FLIRT trains running on the 81km long network which includes 14 stations between Zwolle and Enschede and between Zwolle and Kampen.
Each trainset is composed of three or four cars and can carry between 228 to 260 passengers. Bright interior spaces with large window areas, air suspension, comfortable seating, air-conditioning, wide entrance doors on each side, power sockets, Wi-Fi, wheelchair space and a closed toilet system all provide excellent levels of comfort. The train can travel at a maximum speed of 160km/h and will cover 2.6 million km a year.
Located in the Netherlands enables Keolis to address the mobility needs from urban to suburban and regional journeys.