Optimising passenger safety and comfort: Advanced phenolic composites provide proven advantages
Supported by:

Watch this insightful webinar featuring Milwaukee Composites Inc. to gain exclusive access to over twenty-six years of expertise and innovation. Discover how advanced phenolic composite materials have revolutionised rolling stock passenger vehicles, elevating modern-day transportation standards.
Register to watch the webinar for free now!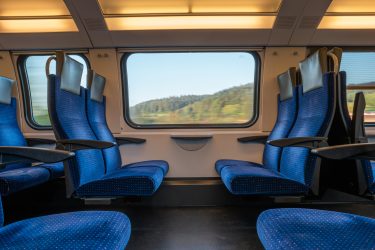 During this webinar you will learn how the cutting-edge use of advanced composites significantly reduces passenger vehicle weight, resulting in substantial energy cost savings.
Explore the transformative impact of phenolic composite materials, extending the service life cycle of entire railcar floor systems. Learn about a proven radiant heated floor system which is designed to enhance passenger comfort while eradicating costly maintenance services linked to outdated heating components.
Gain insights into material selection strategies that can enhance your vehicle designs and consider innovative alternatives. Discover how phenolic composite materials provide unparalleled flame, smoke, and toxicity performance, backed by a globally proven track record in passenger revenue service.
Register for this webinar and find out how to revolutionise your vehicle designs and explore the future of railcar technology.
SPEAKER
Jeffrey F. Kober, President/CEO, Milwaukee Composites, Inc.
Jeffrey F. Kober has held various engineering and management positions in the advanced composite industry for 45 years. Mr. Kober has worked in the industrial, automotive and aerospace business segments of the composites industry. He is a 1975 graduate of the Milwaukee School of Engineering. Mr. Kober holds two United States patents specifically in the fire protection and construction of modern rolling stock advanced phenolic composite floor systems. In 1997 Mr. Kober founded Milwaukee Composites Inc. and since then has focused and specialized in the design and manufacture of advanced fire safe composite structures for global mass transportation vehicles. He is presently the President/CEO of Milwaukee Composites Inc. (Milwaukee, Wisconsin).
KEY LEARNINGS
MCI's standard or heated floors provide the best solution when evaluating the "Total Cost of Ownership". The floors are maintenance-free and designed to last the 35 year design life of the railcar
Maximising passenger comfort: MCI's heated floors efficiently combat thermal losses in railcars, offering uniform heat via temperature-controlled sensors for enhanced comfort and energy savings
Ensuring superior passenger safety: Prioritising the highest standards in fire performance for unparalleled passenger protection.
FAQs
Is the webinar free?
Yes – there is no charge to watch the webinar, either live or on-demand.
When will the webinar take place?
The webinar will be taking place on 6 December 2023 at 14:00 GMT
Can I watch the webinar later?
The webinar will be available to watch on-demand shortly after the live broadcast takes place.
What are the benefits of attending live?
During the live webinar, you will be able to pose questions to the speakers, which will then be answered during the live Q&A session at the end of the webinar.
How long will the webinar be?
The live webinar will last for up to one hour.
Who will be moderating?
Emily Budgen, Editorial Assistant, Global Railway Review.
What do I need to watch this webinar?
All you need is a computer with an internet connection. It is advised to use headphones where possible for your own comfort.