Gerhard Kreß
Vice President, Data Services, Siemens Mobility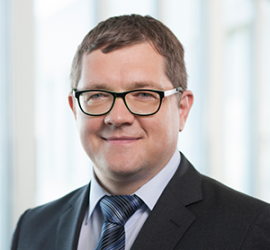 Gerhard is responsible for Data Services of Siemens Mobility Customer Services, building up new customer offerings enabled by data analytics for both rail vehicles and infrastructure. In this function, Gerhard Kreß is globally responsible for the "Mindsphere Application Centers" for rail.
Before that he was responsible for implementing the corporate big data initiative "Smart Data to Business" at Siemens Corporate Technology and worked in Corporate Strategy in the corporate program on digitalization for 3 years.
Prior to Corporate Strategy he spent 8 years working at Siemens IT Solutions and Services (SIS), managing systems and technologies for the global service desks and in the project management of major IT outsourcing projects.
Gerhard Kreß started his professional career with McKinsey & Company, where he focused on growth initiatives and high tech industries. He holds a German diploma in Theoretical Physics and a Master of Arts in International Relations and European Studies.