Fabian Stoffler
Vice President Asset Digitisation, Head of Amspire Digital Lab, DB Cargo AG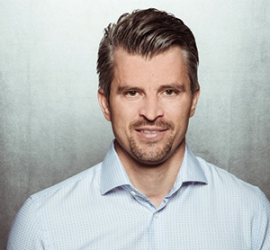 Fabian is a passionate leader, business coach and consultant, an experienced manager with a natural ability to think strategically and in a cross-functional, holistic manner. He combines excellent leadership abilities with in-depth knowledge of digitization technologies and the transport & logistics sector.
As Vice President Asset Digitization at DB Cargo since 2016 he has developed and managed an digitization program around IoT, Smart Data Analytics and AI that involves more than 10 projects and 150 people to digitize Asset Management workflows at DB Cargo. He has also build up and is currently heading the amspire Digital Lab in Frankfurt am Main focussing on solving digital challenges in rail freight and aiming to inspire and shape the future or rail freight.
Fabian has also lead and supported numerous strategic and operative projects for Deutsche Bahn Group in Europe and Asia, covering further areas such as rail freight operations and planning, Air & Ocean freight forwarding operations, rail infrastructure maintenance and planning and maintenance of high-speed passenger rail services.
Some of his core strengths are the ability to motivate and drive people and to transform findings into new practical solutions. He has a high quality focus and a strong methodical background on digitization, start-up culture, process optimization, change and transformation management and strategy development.
Fabian has successfully build up and lead teams of up to 50 staff and has worked together with colleagues from many different cultures in both Europe (Germany, UK, Poland, Italy, Netherlands, Denmark) and Asia (Singapore, Thailand, China, Japan, Australia, Indonesia).