Fabian Stoffler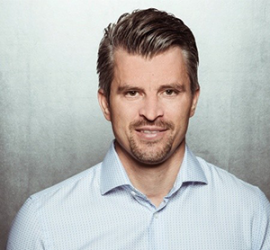 Suffering from a heavy hearing loss, Fabian learned early, that success needs focus and a strong team – both on and off the basketball court. He is a passionate, empathetic leader with a natural ability to think strategically and in a cross-functional, holistic manner.
As a thought leader Fabian has held leading international roles in digitization and transformation in rail and logistics for the last 13 years, also heading DB Cargo's Asset Digitization division and the amspire Digital Lab, setting the pace for the company's digital journey.
With Menlo79 he is developing innovative digital solutions for a new employee- and customer experience and a better productivity in rai and logistics. Supporting transport companies holistically from strategy development and user centric product design up to complete implementation of the new digital solutions, M79 is mainly committed to a modal split of 30% for rail freight contributing to a better environmental balance.