Christian Chavanel
Director of the Rail System Department, UIC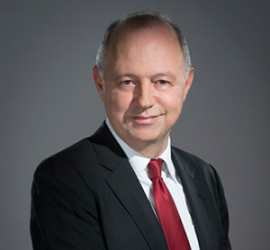 Christian Chavanel is a railway professional with more than 30 years' experience in international development, project management, operation, maintenance, safety, standardisation, and regulatory affairs.
He is an engineer, and a graduate of an Executive MBA.
He was notably:
– Head of a consulting mission for S.N.T.F. (Société National des Transports Ferroviaires) in Algiers;
– Interoperability & Standardisation Director in SNCF from 2014 to June 2019;
– Expert at OTIF (Intergovernmental Organisation for International Carriage by Rail) in Bern since 2014;
– Chairman of CEN-CENELEC Sector Forum Rail (ex-JPC-R) since 2016;
– COO (SNCF Regional Transportation);
– PMO (SNCF Regional Transportation);
– Head of Paris Gare de Lyon station;
– Infrastructure District manager.
He is today UIC (International Union of Railways) Rail System Director. Rail System covers all the technical aspects of energy management, rolling stock, telecom and control command signaling, train track interaction, track and structure, asset management, and operation.