Bertrand Minary
Director Innovation & Digital Freight, Chief Innovation & Digital Officer Freight, Rail Freight & Intermodal Division, Logistics, SNCF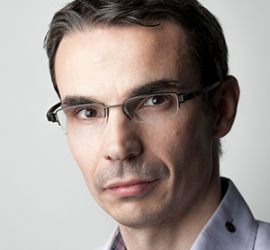 Bertrand is Chief Innovation & Digital Officer at Rail and Intermodal Division (Fret SNCF, CapTrain, VIIA, VFLI, …), which is the third railway freight company in Europe. With its important experience in logistics and rail, he is in charge of reinventing rail freight services and optimising techniques, using a lean startup and agile approach, with the help of news technologies. He is also in charge of the management of innovation, to make possible for every worker to enhance the company.
He entered at SNCF in 2000, as project leader dealing with freight techniques at international level.
He began to work for Fret SNCF in 2006, as projects manager for the CEO. Then he had differents rail freight operations positions during 10 years: customer center manager for automotive clients, Sales&Operations planning program manager, operations manager for Fret SNCF in the Rhone Alpes region (270 employees – 280,000 wagons per year).
He previously worked at Michelin as Supply Chain Manager.
Bertrand is graduated in Transport and Logistics. He also teaches logistics and international transport at Ecole Centrale de Lille and IAE Business School in Lyon.
He was certified on July 2018 as "Digital Transformation Facilitator" (Moonshot) by Nextexplo / ESC Paris, one of the first course dedicated to digital transformation in Europe.