Global Railway Review Issue 6 2021
Packed full of exclusive content, including: a project update on Brisbane's Cross River Rail; rail freight and the environment; two In-Depth Focuses on Noise & Vibrations and The Future of Train Control; and much more!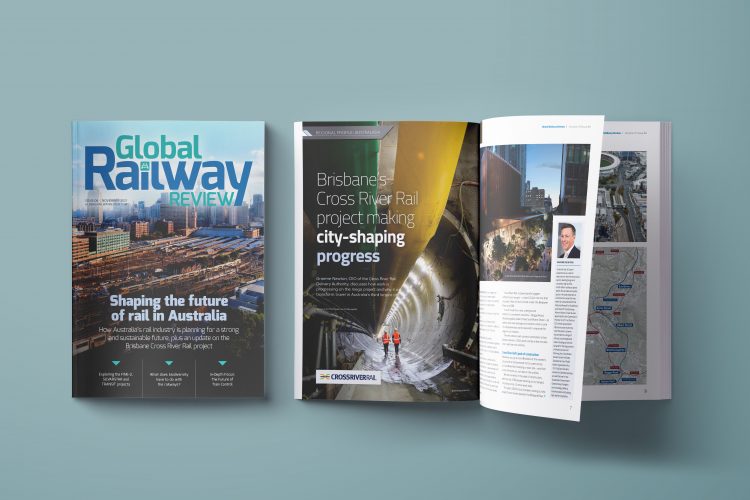 REGIONAL PROFILE: AUSTRALASIA
A once in a generation opportunity to shape the future of rail in Australia
Caroline Wilkie, CEO, ARA
REGIONAL FOCUS: AUSTRALASIA
Brisbane's Cross River Rail project making city-shaping progress
Graeme Newton, CEO, Cross River Rail Delivery Authority
IN-DEPTH FOCUS: NOISE & VIBRATIONS
Noise and vibration work in the FINE-2 project
Scott Heath, Coordinator, FINE-2 project
IN-DEPTH FOCUS: NOISE & VIBRATIONS
SILVARSTAR project: Soil vibration and auralisation software tools for application in railways
SILVARSTAR project colleagues
IN-DEPTH FOCUS: NOISE & VIBRATIONS
The TRANSIT project: Innovation towards train pass-by noise source characterisation and separation tools
TRANSIT project colleagues
Rail freight: An ally of the environment
Samuel Nevado, Head of the Logistics and Vehicle Distribution Division, Transfesa Logistics
Rail Live! 2021
What does biodiversity have to do with the railways?
Pınar Yılmazer and Lucie Anderton, UIC's Sustainability Unit
IN-DEPTH FOCUS: THE FUTURE OF TRAIN CONTROL
Developing technologies for autonomous railway management
Vladimir Andreev, Head of the Technical Policy Department, Russian Railways
IN-DEPTH FOCUS: THE FUTURE OF TRAIN CONTROL
Next generation train control 'Made in Germany'
Dan Woywod, Head of Railway Technology, VDB
IN-DEPTH FOCUS: THE FUTURE OF TRAIN CONTROL
Tokenisation of train control/train management
Gerald Schinagl, Digital Innovation Manager, ÖBB BCC GmbH, and Martin Taranetz, Head of Mobile Radio Networks, ÖBB-Infrastruktur AG