The potential of advanced train navigation
In this interview for Global Railway Review, Aaron Whittemore, Director of Product and Strategy at Humatics, delves into the benefits that ultra-wideband technology can offer railways and what the industry can gain from deploying Humatics' systems.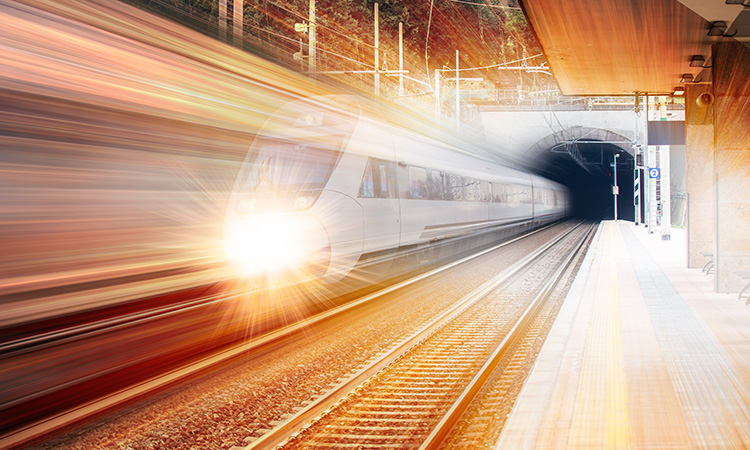 What would you say are the top three benefits of ultra-wideband (UWB) technology for railways?
Humatics uses sensor fusion to combine UWB with GPS and inertial sensors to precisely navigate the train. By navigation, we mean measuring the train's position, speed and acceleration. The superior precision and accuracy provide numerous advantages for train control suppliers, transit agencies, and riders.
First, our approach is not susceptible to positioning errors caused by slip-and-slide adhesion issues. This prevents unnecessary delocalisation and emergency braking that otherwise would impact service and cause wheel flats. Trains recovering from a deinitialisation event localise immediately as the need to travel over multiple transponders is eliminated; the system recovers as soon as UWB connectivity is established.
Second, agencies and transit operators can take advantage of fast installation times and reduced maintenance costs. Deploying a new signalling system, especially in brownfield environments, can take many years, often causing service disruptions. Our equipment is installed inside the train (as opposed to under it), reducing retrofitting from weeks to days. Wayside installations take less than 20 minutes and have been proven to be successful under flagging, allowing service to continue without interruption which is unachievable using transponder or loop-based positioning systems. Wayside equipment can be connected to existing wayside infrastructure (e.g., lights, radios) precluding the need for dedicated power runs. Equipment replacement is equally as easy and has been performed by trained operator personnel in under five minutes. 
Third, our product helps agencies reserve precious maintenance bays for heavy repairs by removing the need to access undercarriage vehicle equipment such as wheel tachometers and transponder readers. We routinely install and maintain equipment in storage yards, saving valuable maintenance depot space for other uses.
All these advantages lead to a more robust, higher capacity system that reduces the total cost of ownership to transit agencies and operators.
What's next for UWB in terms of scale-up?
Advanced train navigation has enormous potential, especially when you combine complementary sensors. No single sensor provides the required availability and safety; however, when used in concert with sensor fusion software, the result is a robust solution. Navigation requires a systems approach of matching the right sensors to the problem at hand. Humatics is currently working with train control partners in three countries to provide the system that solves their needs.  
Advanced train navigation has enormous potential, especially when you combine complementary sensors.
Our system ingests UWB, IMU and GNSS data. This makes a Humatics solution ideal for deploying where there are transitions between indoor/tunnel and outdoor environments. Providing a seamless handoff between sensors is something that we have proven with our partners. This ensures that the limitations of one sensor are compensated by the strengths of another sensor. This versatility is pulling us into conversations with GNSS based signalling systems providers and operators such as Positive Train Control in the US and ERTMS in Europe. We are helping them solve positioning issues where GNSS is degraded such as urban areas, dense forests, and entering/exiting tunnels.
Rail and transit are undergoing both growth and a transition to next generation technologies; industry interest in innovative technical solutions is strong. We are constantly receiving inbound requests from customers in Europe, Australia, and Asia and look forward to deploying more solutions in those geographies very soon.
Can Humatics' systems help those rail organisations that operate in harsh environments perform better?
The Humatics solution is designed specifically for harsh environments. Our system has worked flawlessly in the transit environment and in poor weather conditions, including tunnel flooding and high humidity conditions. Since our wayside equipment is installed a few metres off the track bed, we avoid problems that affect other train systems such as pooling water, icing or simple maintenance misplacements of transponders. Humatics also has years of experience operating in harsh environments. We have equipment that has been operating for years in molten steel plants, mines, and ports. Our team has over 25 years of experience designing ruggedised, hardened navigation systems and we are able to adapt to whatever environment our customers need to operate in. Furthermore, our sensor fusion approach ensures we are never dependent on a single sensor or type of sensor; sensing diversity is inherent. Our products are simple to use and do not require internet connections, so we can install equipment in off-grid locations using solar and battery power.
To what extent has the coronavirus pandemic impacted Humatics' operations?
The coronavirus pandemic has impacted the entire transit industry including Humatics. Like everyone else, we have experienced project execution and contract award delays, travel restrictions that prevented marketing opportunities and building personal relationships with customers, and we are constantly ensuring our production lines are not impacted by supply chain issues. 
At the start of the pandemic, we were in the middle of a large deployment; however, we had built the ability to virtually access the trains into our solution, so we were able to continue the project.
However, with every challenge comes opportunity and Humatics was able to deliver and grow in the face of the pandemic. At the start of the pandemic, we were in the middle of a large deployment; however, we had built the ability to virtually access the trains into our solution, so we were able to complete the project remotely. We also kicked off new projects such as deploying on a 2.5km test track with a European customer in the middle of the pandemic. Our previous remote success enabled us to deliver this project 100 per cent remotely. We created documentation, training, and helped our customer identify and vet local subcontractors who were qualified to perform installation of this type of equipment. We made the most of remote technologies and video calls to be able to perform remote monitoring, troubleshooting and updates while establishing relationships over frequent video conferences. While the project may have been easier to accomplish in person, Humatics and our customer base were very pleased with the results, even if it did cause a few very early mornings for our engineering team. We just started another project that we will be executing in a very similar manner, building on our remote success this past year.
The broader transition to remote work enabled us to attract talent from all over the United States. We are proud of the team we have built; they include pioneers in UWB (our Huntsville, Alabama team contributed to UWB's invention), sensor fusion engineers educated at top-tier schools such as MIT, Carnegie Mellon, University of Maryland and rail industry veterans from companies like Alstom and Network Rail.
What lessons can the rail sector learn from Humatics' experience in other industries?
UWB technology was originally developed for military applications in the late 1980s and over the past 30 years we have deployed it in countless harsh applications. For example, the technology has been used for positioning industrial equipment in steel foundries, cranes in container ports, and for wind turbine monitoring. All these applications require high performance positioning and extended exposure to harsh environments. This prior work enabled us to deliver the robust UWB technology used in transit. The proof is in our results; our total UWB beacon uptime in recent deployments exceeds three million hours without a critical failure.
The roots of our systems approach to navigation comes from another harsh environment, the deep ocean. Much of our 'DNA' comes from the lessons our founding team learned in developing navigation systems for deep sea robots. Conventional navigation technologies are unavailable (GPS cannot penetrate water and the absence of light precludes vision-based navigation) so alternate solutions are required.  Similarly, deploying infrastructure is expensive and time consuming, you only do it where it is necessary. So, you design navigation systems to solve the problem you have, including focusing on where you need superior precision and accuracy. Underwater, this might be having the navigation necessary to precisely map and characterise tectonic plate faults in the deep ocean; in transit it could be precision stopping to enable platform screen doors. In between, you often need less performance, in those regions you can install less infrastructure saving time and money. 
The lessons extend to the applications. The original motivation in the deep ocean was to provide the precision navigation necessary for control of remote and autonomous robots but we quickly realised the value in being able to precisely geolocate the wealth of sensor data collected with those robots. That geolocation has transformed our understanding of the oceans and we foresee a similar trend in transit. Today, we are focused on precisely navigating trains but in time we see the technology providing a common 'micro location' layer that ties together the increasing wealth of data information gathered in a transit system.  It makes for an exciting future.

Aaron Whittemore is the Director of Product and Strategy at Humatics. Previously, he was selected as a Harvard Business School Leadership Fellow, serving as the Director of Special Projects at the Massachusetts Bay Transportation Authority (MBTA) where he worked under the General Manager on a variety of business transformation projects, owned the Innovation Proposal Policy which evaluated and procured innovative products and services, and led capital improvement projects on signal, track, power and facility modernisations. Aaron was recognised as a 2019 Emerging Leader in Transportation from the NYU Rudin Center for Transportation. Prior to the MBTA, Aaron worked for over 10 years in complex system design and engineering serving as a Systems Engineering Leader with Raytheon on a variety of defense programmes.