In-Depth Focus: Alternative Fuels
Reducing emissions and how the rail sector contributes to climate change are topics high on the agenda for many organisations in the industry. With companies seeking more sustainable options, the authors in this In-Depth Focus explore the opportunities of alternative fuels and the importance of how innovative initiatives can enable rail's environmental footprint to be reduced.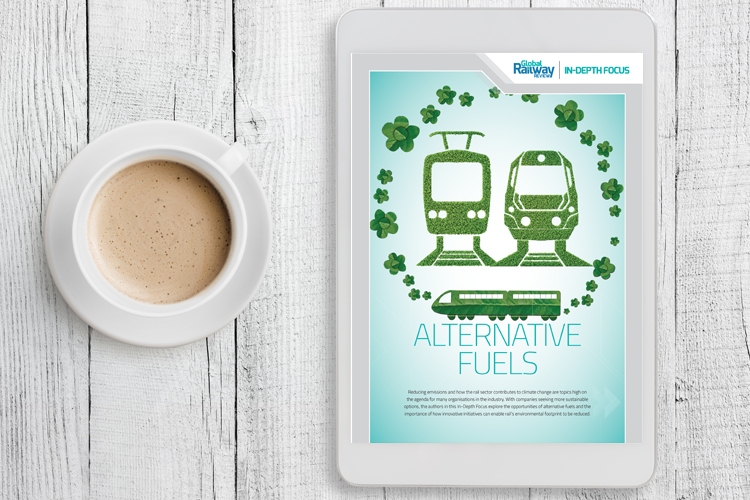 The strategy behind alternative fuels for rail freight
With climate and environmental protection becoming an increasingly urgent priority for governments around the world, Kathryn Oldale, Head of Strategy, Policy and Communications at DB Cargo (UK) Limited, explains the benefits that alternative fuels can offer the environment and details how DB Cargo is approaching the climate challenge that is facing the transport sector.
Going the extra mile: The key role of alternative fuels in the decarbonisation of Europe's rail sector
With the European Union focusing more on confronting climate change, Jonathan Cutuli, Public Affairs Manager at UNIFE, explains the key role that alternative fuels can play for the rail sector in lowering GHG emissions and how investment is key to producing greener results.
Four ways exo reduces the environmental footprint of its rail operations
Daniel Koudolo and Paul Dorval from exo, the public transit authority that operates the commuter train network in the Greater Montréal Area, detail four different and innovative initiatives that enable exo to reduce its environmental footprint by preventing several tonnes of GHG emissions every year.
Reimaging a better future through sustainable, eco-friendly rail
Tom Rutkowski, VP & Chief Mechanical Officer at Brightline, explains how Brightline is reimaging sustainable rail travel for North America, exploring the different ways that the company is focussed on eco-friendly high-speed rail.