In-Depth Focus: Bogies & Wheelsets
In this In-Depth Focus, the authors cover the latest developments in the journal bearing workstream of the GEARBODIES research project, and how the next generations of bogies and wheelsets will be equipped with innovative devices to improve the lifecycles of these crucial rolling stock components.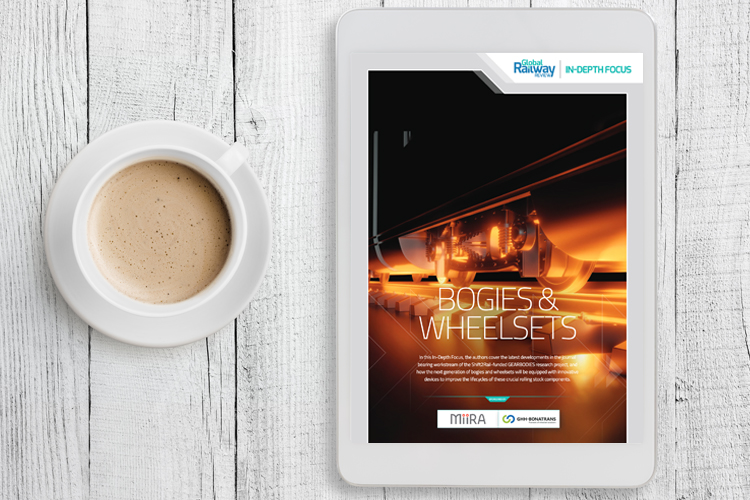 The modern bogie – are we on the cusp of a revolution?
From the historical patent (Chapman, 1812) to the last development, the history of the bogie is one strongly linked with rail. Innovation has been constant: even if a bogie still consists of a frame on which two wheelsets are mounted, suspensions and other components, technologies have evolved significantly. Frédéric Desgaches, Bogie/Running Gear Network Scientific and Technical Expert within the Rolling Stock Engineering Department at SNCF Voyayeurs, explains more.
Supporting innovation in bogie and wheelset development
The Rail Safety and Standards Board (RSSB) is continuing to support innovative solutions to improve the lifecycles of bogies and wheelsets. In this interview for Global Railway Review, Neil Dinmore, Principal Engineer of Structures and Materials at RSSB, provides an update on project progress.
The future of journal bearings for high-speed trains
Riccardo Licciardello, Professional Engineer at ANSFISA, the Italian rail and road safety authority, explains how the journal bearing workstream of the Shift2Rail-funded GEARBODIES research project is looking to reduce the lifecycle cost of rolling stock bearings and running gear, primarily through improving the longevity of bearing units.