Roundtable: Passenger Experience
Moderated by Judit Sandor, Programme Manager at Europe's Rail Joint Undertaking, participants of this Roundtable explore how to improve passenger satisfaction post-pandemic, the role of Mobility-as-a-Service (MaaS), and the importance of on-board comfort and transforming train stations.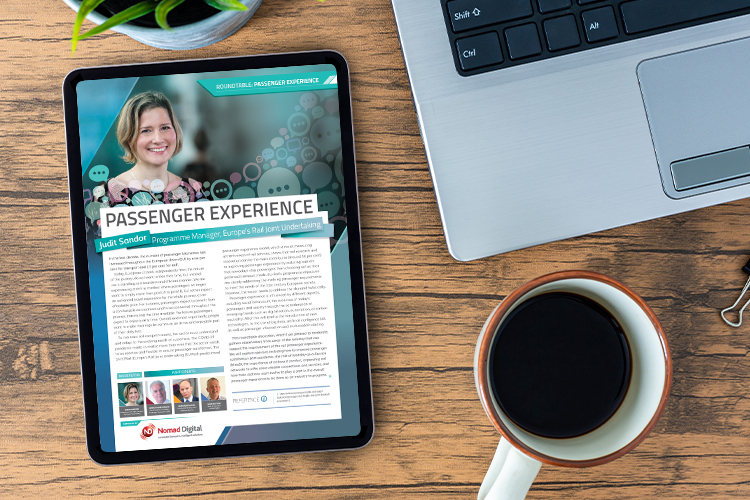 JUDIT SANDOR, Programme Manager, Europe's Rail Joint Undertaking:
"In the last decade, the number of passenger kilometres has increased throughout the European Union (EU) by nine per cent for transport and 13 per cent for rail.
Today, European citizens, independently from the nature of the journey, do not want to lose their time, but instead use it travelling in a seamless and efficient manner. We are experiencing a shift in mindset where passengers no longer want to simply move from point A to point B, but rather expect an enhanced travel experience for the whole journey, at an affordable price. For business, passengers expect to benefit from a comfortable environment and to be connected throughout the journey, maximising the time available. For leisure, passengers expect to enjoy quality time. Overall, and most importantly, people want to make their regular commute an active and enjoyable part of their daily lives.
To maintain rail competitiveness, the sector must understand and adapt to the evolving needs of customers. The COVID-19 pandemic made us realise more than ever that the sector needs to be reactive and flexible to ensure passenger satisfaction. The Shift2Rail (Europe's Rail Joint Undertaking (EU-Rail) predecessor) passenger experience model, which aims at measuring attractiveness of rail services, shows that rail research and innovation can be the main contributor (around 50 per cent) to improving passenger experience by reducing barriers that nowadays stop passengers from choosing rail as their preferred transport mode. EU-Rail's programme objectives are clearly addressing the evolving passenger requirements to meet the needs of the 21st century European society. However, the sector needs to address the demand holistically.
Passenger experience is influenced by different aspects, including social behaviours, the evolution of today's passengers and society through the consideration of emerging trends such as digitalisation, automation, or carbon neutrality. All of this will lead to the introduction of new technologies, to the use of big data, artificial intelligence (AI), as well as passenger information and multimodal ticketing.
This roundtable discussion, which I am pleased to moderate, gathers stakeholders from areas of the industry that can support the improvement of the rail passenger experience. We will explore opinions including how to improve passenger satisfaction post-pandemic, the role of Mobility-as-a-Service (MaaS), the importance of on-board comfort, expanding rail networks to offer more reliable connections and services, and how train stations must evolve to play a part in the overall passenger experience.to be done as an industry to progress.
Participants:
Christopher Irwin Board Member, European Passengers' Federation (EPF)
Mark Eastwood Commercial Strategy Lead, Heathrow Express
Mike Butler, Head of Innovation, Nomad Digital