InnoTrans 2022 – Event Preview
In this event preview of InnoTrans 2022, we showcase what the trade fair has is in store for attendees this year, as well as some Company Profiles from organisations that will exhibiting at the event.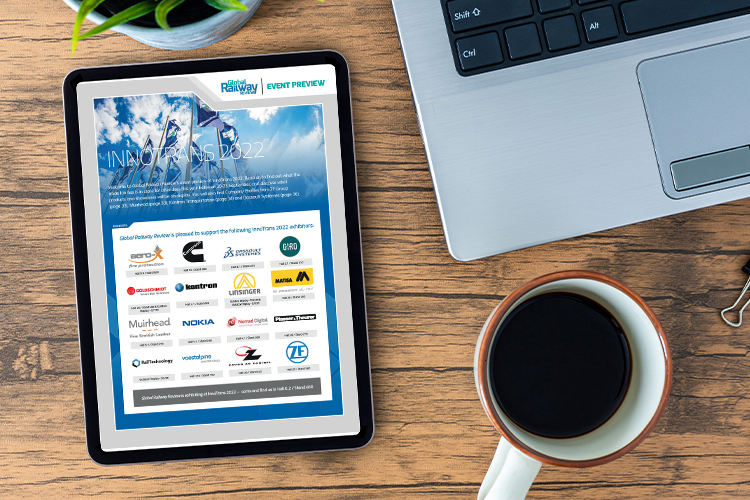 After an absence of four years in the calendars of rail and public transport professionals, the world's leading trade fair for transport technology is returning to the Messe Berlin exhibition grounds on 20‑23 September 2022.
Normally held every two years but impacted by the global pandemic, the organisers of InnoTrans had to close the doors to the event in 2020. But, bouncing back stronger than ever, the leading trade fair for transport technology is thriving with its thirteenth edition in 2022. InnoTrans will occupy the entire exhibition grounds at the Messe Berlin, including the new trade fair hall hub27. Organisers says that 95 per cent of the exhibition area is occupied, while the Outdoor Display with 3,500 metres of rail track is fully booked.
"In view of the difficult overall conditions and latest developments we did not expect bookings to be this high," Kerstin Schulz, InnoTrans Director, said. "Everyone taking part is looking forward all the more to meeting in person. InnoTrans is the world's largest platform for the mobility sector, with a market coverage that is second to none."
The last edition of InnoTrans held in 2018 attracted 3,062 exhibitors from 61 countries who presented their latest innovations to 153,421 trade visitors who came from 149 countries. Sub-divided into the five trade fair segments; Railway Technology, Railway Infrastructure, Public Transport, Interiors and Tunnel Construction, InnoTrans occupies all 42 halls available at Berlin Exhibition Grounds. Furthermore, the InnoTrans Convention, the event's top-level supporting programme, complements the trade fair and will be streamed live.
Take a look at Global Railway Review's InnoTrans 2022 event preview where you will find out what the trade fair has is in store for attendees this year, discover what products and showcases will be on display, and find Company Profiles from ZF Group, Muirhead, Kontron Transportation and Dassault Systèmes.