Hybrid computing solutions in the digital transformation of rail
Nick Wu, Sales and Marketing Director for the China Market at Vecow, explains the key challegnges that operators face relating to hybrid computing deployment, and details the solutions that Vecow offers.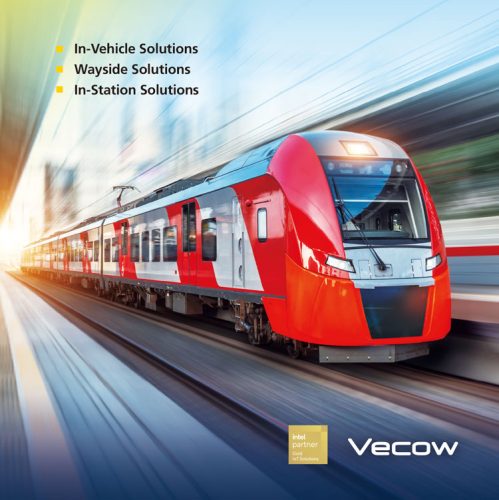 Vecow offers railway application with in-vehicle computing, wayside computing and in-station solutions.
What does the digital transformation of rail mean to you?
The digital transformation of rail means providing more data connections, such as wireless devices access and access management, and more visualised data across railway surrounding from train stations, in-vehicles, platforms, and equipment to public security. It also includes more analysis performance and results management that eventually is delivered by high computing capabilities.
What are the main challenges rail operators face when deploying heterogeneous (hybrid) computing?
Several fundamental challenges are related to hybrid computing deployment.
Firstly, the hybrid computing systems how integrate the original rail systems for the software capabilities and upgradation. Secondly, there are different applications based on different system configurations. For example, the size and requirements of each application are quite different (such as power isolated, operating temperature, and redundant issues).
What key solutions can Vecow offer the industry that will bring benefits to passengers?
Passengers would be pleased to have seamless connectivity for safe and comfortable travel through Wi-Fi hot spot services, enabling their access to the modern entertainment and communication content that we all enjoy.
Passenger information systems play a crucial role in public transportation, not only for passengers but also for rail operators.
Vecow's passenger information systems are used for public transportation. Passenger information systems play a crucial role in public transportation, not only for passengers but also for rail operators. A passenger information system refers to an automated system that provides information about the nature of the state of a public Transportation service through visual, voice, or other media.
The system enables users of public transportation to have access to relevant data that forecasts arrivals, departures, and emergency notices. Passenger information systems can be used in two ways. The first is external, at rail stations where the passenger is waiting for their train to arrive. The second is internal, installed in the train where the passengers expect real-time, precise information about their location, arrival time and outside train situation such as temperature, weather, etc. Keys features of the passenger information system include:
High-performance computing for data processing, analytics, and monitoring
Anti-shock, and anti-vibration and easy field replacement
Wide range power voltage
Wide operating temperature
Supports seamless connectivity.
Vecow's product highlights include:
Workstaion-grade embedded platforms
EN50155, EN45545-2 certified
DC 16V to 160V
Fanless -25°C to 70°C
Multiple 5G/Wi-Fi/4G/GPRS/UMTS wireless communications.
Where are Vecow's solutions being deployed, and what customer feedback have you received?
Vecow embedded systems are already in operation in various regions. In China, the systems are used for Pantographic Diagnostics. The automatic pantograph inspection with machine vision systems enables the detection of incorrect or defective pantographs at the early stage by gathering image data captured by a camera and automatically reporting to the control centre for further analysis.
Vecow embedded systems provide seamless wireless connections and multimedia displays used in passenger information systems. Others include in-vehicle data centres, in-vehicle AI surveillance, wayside signal management, undercarriage track inspection, mobile in-vehicle communication, and so on.
What sets Vecow apart from your competitors, and how will you keep up with the changing demands of the future rail sector?
Vecow provides a comprehensive, trusted, and rugged computing platform aimed at railway applications. Vecow has EN50155:2017 and EN45524-2 fire protection platforms. To meet more AI applications, Vecow provides NVIDIA, Cambrian, Lost Horizon, Qualcomm, MediaTek solutions, Intel Xeon D processor, a large amount of storage capacity with up to 6 HDD, and high-speed wireless data delivering 5G/10G connections.

Nick Wu is the Sales and Marketing Director for the China Market at Vecow. Prior to joining the company in 2010, Nick worked for Advantech as a Product Sales Manager in charge of Intelligent Transportation Applications and as a Business Development Manager focused on Transportation Scenarios. In 2002, Nick worked at VIA Technologies as an embedded software engineer, and then he managed Technical Support Team in charge of the China Mainland Region in 2006.
Related topics
Related organisations
Related people