Global Railway Review Issue 1 2023
Packed full of exclusive content, including a Roundtable with topic experts of HOF and Safety Culture in Rail; Bogies & Wheelsets and Train Interiors In-Depth Focuses; Madrid train station developments; and much more!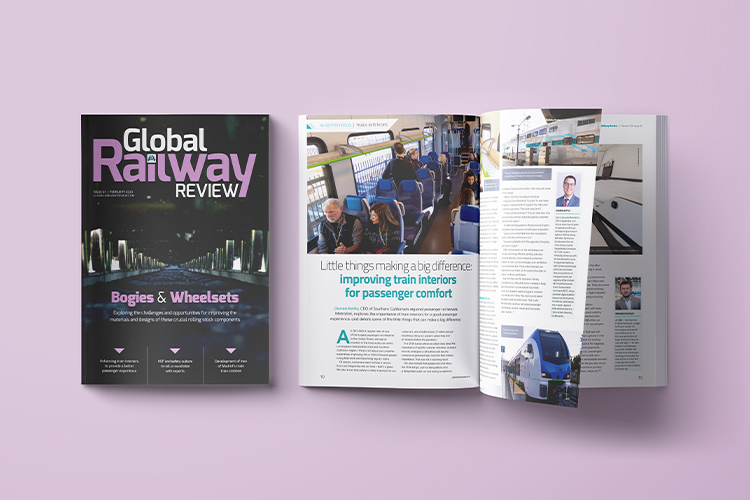 ROUNDTABLE: HOF & SAFETY CULTURE IN RAIL
Moderated by the UIC's Virginie Papillault, Manager – Human and Organisational Factors & Safety Culture, and Frédéric Henon, Head of Operations and Safety
With participation from: Nora Balfe, Human Factors Specialist, Irish Rail; Noor Mousaid, Safety Manager, LINEAS; Serge Poncet, Rail Safety and Operations Deputy Director, LISEA; and David Smith, Commercial Director, OnTrac Ltd
IN-DEPTH FOCUS: BOGIES & WHEELSETS
Leading the wheelset industry: from tradition to innovation
Riccardo Pasinetti and Steven Cervello, ERWA
IN-DEPTH FOCUS: BOGIES & WHEELSETS
Bogie and wheelset development over the last 20 years: big bang or just incremental changes?
Kurt Strommer, Thomas Moshammer and Martin Rosenberger, Siemens Mobility Austria
IN-DEPTH FOCUS: BOGIES & WHEELSETS
Increasing the level of research to improve design and materials of bogies and wheelsets
Walter Rosenberger, Anish Poudel, Dustin Clasby, Kerry Jones and Ulrich Spangenberg, MxV Rail
One station, two terminals: development of Madrid's Puerto de Atocha-Almuneda Grandes and Chamartín-Clara Campoamor
Montserrat Rallo del Olmo and Juan Pablo Villanueva Beltramini, Adif
Thinking outside the box: how an innovative level crossing project encapsulates the future of rail
Atkins
TETRA deployment for rail: meeting the needs of today and the future
Alvin Lim, ETSI Technical Committee TCCE
IN-DEPTH FOCUS: TRAIN INTERIORS
Is the era of uncomfortable train seats coming to an end?
Ian Yeowart, Grand Union Trains
IN-DEPTH FOCUS: TRAIN INTERIORS
Little things making a big difference: improving train interiors for passenger comfort
Darren Kettle, Metrolink
IN-DEPTH FOCUS: TRAIN INTERIORS
Nightjet of the new generation: a new era in night-time travel
Dragan Filipovic and Elisabeth Pichler-Weinzierl, ÖBB-Personenverkehr