In-Depth Focus: Bogies & Wheelsets
The continuous advancements in the benefits of usage, reduction of lifecycle costs, and standardisation of railway bogies and wheelsets are contributing to the enhancement of rolling stock performance and reliability for passengers. The contributors in this In-Depth Focus highlight how continued research and development, alongside improving the regulations of these vital components, plays an important part in the future of the railway industry.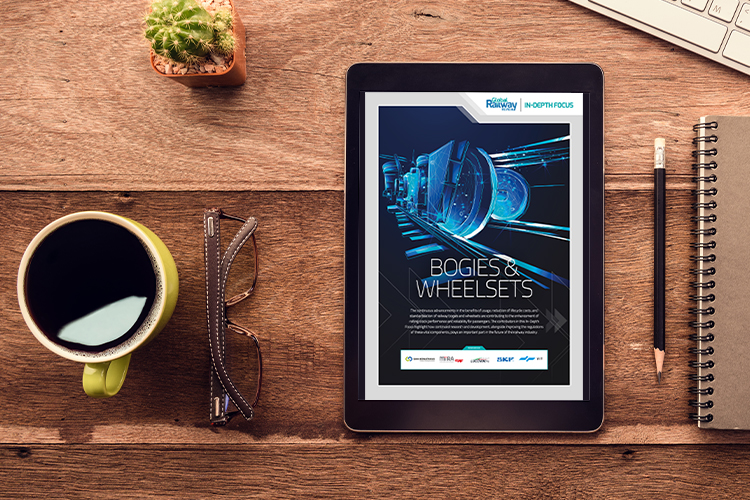 Leading the wheelset industry: from tradition to innovation
Riccardo Pasinetti and Steven Cervello explain how members of the European Railway Wheels Association (ERWA) have advanced railway wheels, wheelsets, and axles and how continued improvement is important for further developments.
Increasing the level of research to improve design and materials of bogies and wheelsets
Wheelsets and bogies play a significant role in railway operations. Recognising the need for safety, efficiency, and reliability in those operations, the Association of American Railroads (AAR) directs research toward wheelsets and bogies to improve the design and materials of components, their performance in various operating conditions, and enhancements to inspection practices. Colleagues from MxV Rail (formerly TTCI), a wholly owned subsidiary of the AAR, explain how they carry out this research and that a recent move to new facilities sets the stage for an increased level of research in the laboratory, test track, and revenue service environments.
Bogie and wheelset development over the last 20 years: big bang or just incremental changes?
Siemens Mobility Austria colleagues Kurt Strommer, Thomas Moshammer and Martin Rosenberger explain how bogie and wheelset design has changed in the last 20 years, focusing on some of the most important issues regarding safety, noise, wear, and weight reduction, and they offer an outlook on what the challenges and opportunities are for further improvement of these components over the years ahead.
Jan Babka, Application Competence Center Manager at SKF Global Railway, explains the impact of current leakage erosion on wheelset bearings and what solutions are available to prevent bearing damage.
Francesco Lombardo, Strategic Commercial Projects Manager, Lucchini RS, provides an answer to the question: To what extent do you agree that monitoring and maintenance of bogies and wheelsets remains a complicated activity for operators, and how can inspection and testing processes be more streamlined?
Leading the way in sustainability: CAF MiiRA's ECOAPPROVED label