In-Depth Focus: Train Interiors
Train interiors impact the passenger experience greatly. Operators aim to create a comfortable and welcoming ambience which offers comfortable seating, ample legroom, and modern amenities, considering factors such as lighting, temperature control, privacy, and the importance of on-board technology to provide a connected journey. As the contributors in this In-Depth Focus explain, train interior design is evolving to meet changing passenger needs and preferences, with options ranging from luxury to budget-friendly. Sustainability is also a factor, with eco-friendly materials and energy-saving systems being incorporated. A well-designed interior can help enhance the overall journey, as well as attract and retain customers.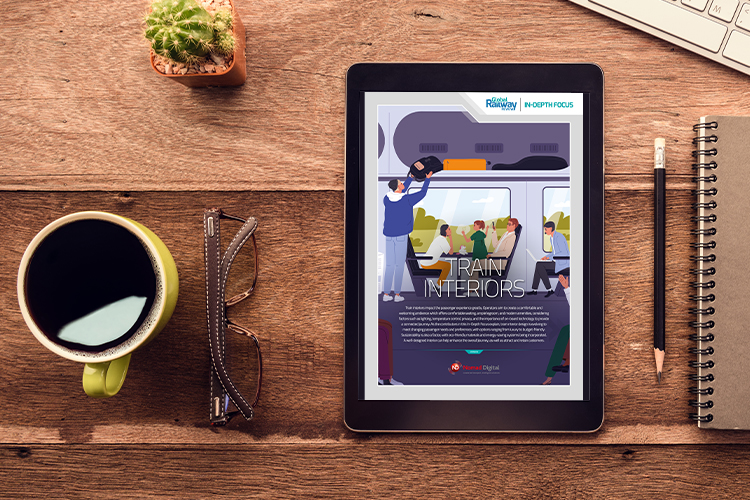 Nightjet of the new generation: a new era in night-time travel
ÖBB – the Austrian Federal Railways – is the biggest company advocating for climate protection in Austria, and the Nightjet has now become synonymous with sustainable travel within Europe. For customers, it is not only the network with lots of attractive destinations in Europe that counts, but also modern and comfortable trains. ÖBB have looked closely at the needs and wishes of today's passengers and designed the interior of the new rolling stock accordingly. ÖBB-Personenverkehr's Dragan Filipovic and Elisabeth Pichler-Weinzierl detail how the Nightjet of the new generation offers modern design, enhanced comfort, and more privacy.
Little things making a big difference: improving train interiors for passenger comfort
Darren Kettle, CEO of Southern California's regional passenger rail service, Metrolink, explores the importance of train interiors for a good passenger experience, and details some of the little things that can make a big difference.
Is the era of uncomfortable train seats coming to an end?
Ian Yeowart, Managing Director of Grand Union Trains, considers that a good-looking train seat is not necessarily a comfortable seat, and explains how the new operator will ensure the ambience and comfort of its train interiors is a major priority in what they hope will be an outstanding interior layout for passengers.
Monika Singh, Product Manager, Nomad Digital, provides an answer to the question: How must on-board information systems evolve to keep passengers satisfied and ensure operators can offer unique experiences?