Roundtable: Improving On-Board Experiences
Moderated by Guy Dangerfield, Head of Transport User Strategy at Transport Focus, participants of this Roundtable explore how rail can learn from other mobility sectors to improve on-board experiences, the importance of a more personalised travel experience, and the role of technology to support how passenger input is gathered and used.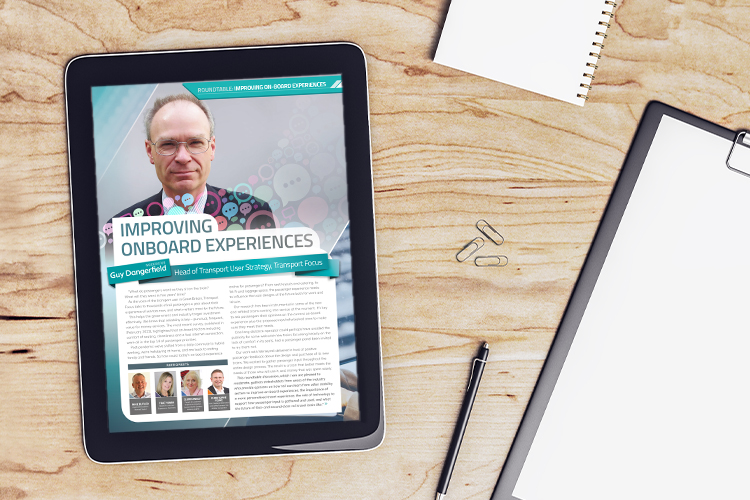 Guy Dangerfield, Head of Transport User Strategy at Transport Focus, writes:

"What do passengers want as they sit on the train? What will they want in five years' time?
As the voice of the transport user in Great Britain, Transport Focus talks to thousands of rail passengers a year about their experience of services now, and what matters most for the future.
This helps the government and industry target investment effectively. We know that reliability is key – punctual, frequent, value for money services. The most recent survey, published in (February 2023), highlighted that on-board factors including comfort of seating, cleanliness and a fast internet connection, were all in the top 14 of passenger priorities.
Post-pandemic we've shifted from a daily commute to hybrid working, we're holidaying at home, and are back to visiting family and friends. So how could today's on-board experience evolve for passengers? From seat layouts and catering, to Wi-Fi and luggage space, the passenger experience needs to influence the train designs of the future both for work and leisure.
Our research has been instrumental in some of the new and refitted trains coming into service at the moment. It's key to ask passengers their opinions on the current on-board experience plus the proposed new/refurbished ones to make sure they meet their needs.
One long-distance operator could perhaps have avoided the publicity for some welcome new trains focussing heavily on the lack of comfort in its seats, had a passenger panel been invited to try them out.
Our work with Merseyrail delivered a host of positive passenger feedback about the design and purchase of its new trains. We worked to gather passenger input throughout the entire design process. The result is a train that better meets the needs of those who will use it, and money that was spent wisely.
This roundtable discussion, which I am are pleased to moderate, gathers stakeholders from areas of the industry who provide opinions on how rail can learn from other mobility sectors to improve on-board experiences, the importance of a more personalised travel experience, the role of technology to support how passenger input is gathered and used, and what the future of first- and second-class rail travel looks like."
 Participants:
Mike Butler, Head of Innovation, Nomad Digital
Tracy Barr, Head of Customer Experience, Northern
Claire Ansley, People & Customer Experience Director, London North Eastern Railway (LNER)
Christophe Fevre, Vice President, Information and Safety Business Unit, Wabtec Corporation