The New Line Copenhagen–Ringsted: best-in-class construction
Posted: 11 April 2014 | Jan Schneider-Tilli – Banedanmark's Project Director for the new Copenhagen– Ringsted line | No comments yet
For Global Railway Review, Jan Schneider-Tilli – Banedanmark's Project Director for the new Copenhagen–Ringsted line – reflects on the first Danish high-speed project as it reaches the halfway line…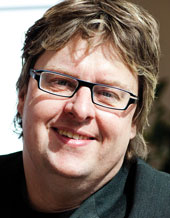 Jan Schneider-Tilli – Banedanmark's Project Director for the new Copenhagen–Ringsted line
For Global Railway Review, Jan Schneider-Tilli – Banedanmark's Project Director for the new Copenhagen–Ringsted line – reflects on the first Danish high-speed project as it reaches the halfway line.
I have been heading the project since The Construction Act came into force on 28 May 2010, and it is also known as the 'New Line Solution' as the project is a completely new railway out of Copenhagen via Køge to Ringsted. In Ringsted, it connects with the existing railway across Zealand connecting the island with Fyn and Jutland. Banedanmark, the national provider for railway infrastructure, is the client.
The discarded solution
Before the Copenhagen–Ringsted line was decided on, the other solution which was turned down was the construction of a fifth track out of Copenhagen from Hvidovre to Høje Taastrup. This solution would not have solved the longterm capacity problem between Copenhagen and Ringsted and could have easily become a bottleneck again – a situation the current railway traffic experience from time to time. Neither could it comply with the Danish Parliament's vision of the One Hour Target, which means that the travel time between the biggest cities in Denmark, e.g. from Copenhagen to Odense and from Odense to Aarhus should take just one hour.