Czech Republic: Open-access, disrupting the rail status quo?
LEO Express is a Central Europe open-access passenger rail operator that is on mission to make train travel the first choice for passengers, by operating modern electric trains with the latest technology to compete with state railway systems and to set new high quality customer service standards. Since its first year of operation in 2012, LEO Express has transported over two million passengers and now connects over 30 cities in the Czech Republic, Poland and Slovakia. CEO, Leoš Novotný, goes into further details about their recent success and what they can offer passengers.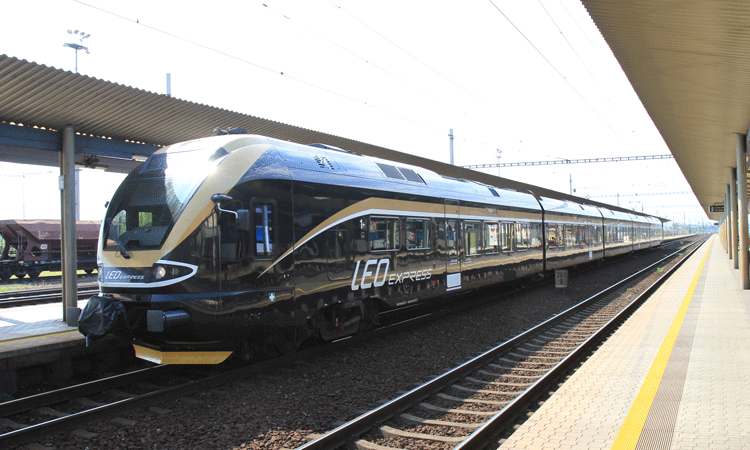 Let me ask you: would you want to eat your lunch in a state-run canteen? Would you want to use a government-produced mobile telephone? Probably not, so why should our only choice in rail travel be a state railway service?
Public transportation has many issues. Underinvestment in both infrastructure and rolling stock means services for today's passengers are offered with yesterday's technology. Supply driven decision-making means trains are bought before commercial sustainability of their operation is ensured – and the subsequent loss-making operation is patch-fixed by taxpayer subsidies, adding to public transportation's spiralling drain on state budgets.
We constantly talk about the competitiveness of rail transportation against other modes. Why is the railway often not competitive? Perhaps it is because there is no competition within the railway sector that would make it stronger as a sector. On many European routes, people decide to fly with a low cost airline or choose to take a commercial bus. Why? 
Given strong competition, the airlines and bus companies have sharpened their business models and strengthened each other. By trying to outsmart each other every day their products have become so superior to what a train has to offer that people avoid rail where it should have been their first choice.
I believe the answer to much of this lies with door-to-door, non-government run public transportation.
At Leo Express, we've found a way to radically improve the train travel experience. Our advanced optimalisation algorithms and yield management have doubled cost effectivity. We combine this with our 'customer first' enthusiasm and time-based fares to achieve maximum value for customers. And although we use modern equipment and require zero state subsidies, it still costs us 50% less than any typical state railway.
I now lead Leo Express into its third year of operation. After we entered the Czech market, the Czech state railways reduced their prices by 60%. So from a loss making intercity operation before our entry, they now claim to have a profitable one, because clearly when you reduce prices by 60%, and lose 30% of your passengers, you make more money?! Anyway, that did not stop us from growing into what we are today – operating across three European countries, 30 cities, and with 5,700 annual intercity connections. How is that possible? By using modern technology we provide a superior customer experience at one third of the cost of a typical state railway.
The good news for everyone is that there is a win-win-win situation for the operators, passengers as well as the state. By letting commercial operators innovate and operate non-subsidised services, or semi-subsidised services (combining commercial train operation with subsidised train or subsidised bus, or with commercial bus) we are able to save millions of EUR annually for each route; potentially hundreds of millions annually in our first three countries alone. These funds would otherwise have to be taken from the state budget and spent on something the private sector is ready to do for free.
I believe the railway industry is at a new crossroads. A defensive approach would protect the status quo and have passengers travelling tomorrow on what they are travelling on today. An offensive approach opens up to competition, disrupts, innovates and thereby grows the market for everyone. 
Stadler Flirt fleet
LEO Express train units are modern and aluminium-constructed with air-suspended chassis, making them very strong, plus a reliable breaking system gives perfect driving characteristics.
Train interiors have been specially designed for intercity travelling. Thanks to the aluminium structure and Jakobs bogies system, LEO Express trains are half the weight of traditional locomotives and wagons. Therefore, their power consumption is lower which also reduces the costs for using the rails. LEO Express provides services using the Swiss trains that have the fastest acceleration in the Czech Republic thanks to modern, powerful, yet very efficient engines and reach the maximum speed allowed – 160km/h.
The maximum performance of the engine is one third lower compared to conventional train engines, yet our engines achieve the best acceleration and braking parameters. LEO Express trains are subject to Swiss maintenance guarantee. They were acquired with a comprehensive full service, ensuring they receive a continuous and highly professional aftercare service so that LEO Express is able to reach the most efficient operability of trains on all routes. The vehicles will undergo preventive routine maintenance after operating a certain number of miles. Thanks to the uncompromising compliance with these service rules, LEO Express has reached very favourable conditions in terms of maintenance costs, insurance and even the financing of the purchase of trains and machinery. The engine's high performance and low overall weight ensure fast and smooth starts without any uncomfortable motion for passengers. Acceleration coefficient 1,2ms-2 is thus the best in the Czech Republic. The train units also benefit from extremely quiet deceleration and short braking distances (breaking coefficient of 1.5 ms-2). 
Interior and travel classes
LEO Express offers elegant and spacious interiors with low-floor wheelchair access. All trains are fully air-conditioned and passengers can choose from Economy, Business and Premium travel classes. All classes provide passengers with free Wi-Fi, daily newspapers and magazines and snack options from the on-board menu. Power sockets and tables are accessible to all passengers plus there are three modern and clean toilets with an ecological closed system with sump (toilets can be also used in the station), one of which is wheelchair accessible (spacious, with easy access and changing table for babies).
Cozy and clean environment
All units are optimised for effective, professional and fast cleaning. Trains are single-storey with open-spaces to walk through. All seats are easily and securely mounted to the train unit walls so that cleaning procedures can be effective and fast. 
Sustainability
If the transportation industry won't provide greener solutions for travel, then we will. Sustainability is our future; we are already developing new clean technologies in order to lead the future of the transportation industry and fully reinvent the railways' potential. Our units are already equipped with electricity recuperation (returning power to the grid) when braking. Quiet operation with a reserve is meeting the requirements of European standards and there is non-spill technology used for all the equipment.
Restaurant service
We provide passengers with an on-board menu which is served at passenger's seats by our on-board crew. In Premium class we serve free catering prepared especially for LEO Express by chefs from the Emirates supplier respecting local tastes and customs.
On-board entertainment
LEO Express trains are equipped with on-board information systems showing travel information, timetables, current position and speed. Passengers can also easily access intranet with various audio and video channels for their entertainment and information. As well as news and movies, they can also play games or use on-board intra chat. Children are automatically provided with games, colouring books and various toys.
Online sales and pricing
We sell over 70% of tickets via an online reservation system or through our mobile application. We have also recently adopted yield management enabling us to charge different rates according to departure times and expected availability.
Loyalty programme 'Smile Club'
LEO Express was the first in the Czech Republic to bring a standard loyalty programme to the railways. Currently, over 100,000 people hold our 'Smile Card' which provides them with 20% discount on our Economy class tickets as well as a number of discounts from our partners.
Door-to-door transportation
Taking into account the obstacle of the so-called 'last mile', we have paired with Uber in cities where we both operate. Therefore we can essentially pick passengers up at their doors and get them to the railway station from which they can easily continue their journey by our trains. We find this service one of the main arguments for persuading people to choose train travel instead of using the car.
Biography
Leoš Novotný is Chief Executive Officer at LEO Express, plus a Managing Partner and Founder of AAKON Capital, a private equity investment company based in the Czech Republic. Leos started his professional career very early and gained a lot of business experience before establishing LEO Express and AAKON Capital. Alongside his studies he held managerial and minority equity positions within HAME A.S. where he was primarily engaged in the UK and Chinese markets. After the sale of HAME, Leos joined Raiffeisen Investment AG in Vienna to work on private equity deals within the CEE region as a member of the Financial Sponsors and Real Estate team. He then became the Secretary of the Czech Minister of Agriculture but quit after six months to establish AAKON Capital. In light of inefficiencies, overpricing and lack of services in the CEE rail passenger segment, Leos originated, structured and executed LEO Express where he acts as the overall sponsor, CEO and Chairman of the Board of Directors.