The Semmering Base Tunnel: powerful and future-oriented
Posted: 6 August 2015 | Gerhard Gobiet, Project Manager at ÖBB-Infrastruktur AG | No comments yet
The Semmering Base Tunnel is one of the most important long-term large-scale infrastructure projects in the Austrian and European high-capacity route network. Through the 27.3km-long tunnel between Gloggnitz and Mürzzuschlag, a sustainable investment is being made in both Austrian and international rail transport. In the long-term, the Semmering Base Tunnel will not only relieve the 'Semmering-Bahn' UNESCO World Heritage Site, but also enable a faster, more attractive freight and passenger transport service – powerful and future-oriented. Gerhard Gobiet, Project Manager at ÖBB-Infrastruktur AG, gives a construction overview of this huge project…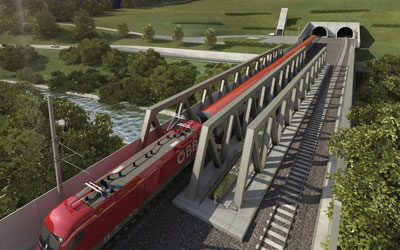 With the Semmering Base Tunnel, travelling from Vienna to the second largest city of Austria, Graz, within 2 hours will become reality. Together with the Koralm Line from Graz to Klagenfurt, the Semmering Base Tunnel enables modern mobility along the South Route from north to south.
The tunnel not only eliminiates a bottleneck within Austria, it is also a key project within the European intermodal transport system: the Semmering Base Tunnel is located on the Austrian section of the Baltic-Adriatic Corridor from Gdansk (Poland) to Ravenna (Italy) and is thus a part of the European core network.
The Semmering Base Tunnel is one of the most examined infrastructure projects in Austria. The Federal Administrative Court has oncemore verified environmental sustainability of the tunnel project. As a consequence of protests in authority procedures, construction stopped for several months for the Semmering Base Tunnel. Now, with the decision of the Federal Administrative Court, the construction work can go back into full swing…
The rest of this article is restricted to logged-in members. Login or subscribe free to read it.