Network Rail; on-track to deliver a better railway for a better Britain
Andy Wheeler, previously a Lance Corporal in the Royal Engineers, now works for Network Rail as a Technician on conductor rail engineering, bringing with him the skills and experience gained from his military career. Andy speaks to Global Railway Review about the role Network Rail plays in Britain's rail infrastructure, the challenges it faces, and offers insight into why Network Rail actively seeks to recruit ex-services personnel…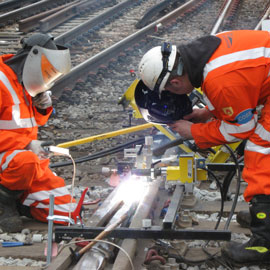 Andy Wheeler, previously a Lance Corporal in the Royal Engineers, now works for Network Rail as a Technician on conductor rail engineering, bringing with him the skills and experience gained from his military career. Andy speaks to Global Railway Review about the role Network Rail plays in Britain's rail infrastructure, the challenges it faces, and offers insight into why Network Rail actively seeks to recruit ex-services personnel.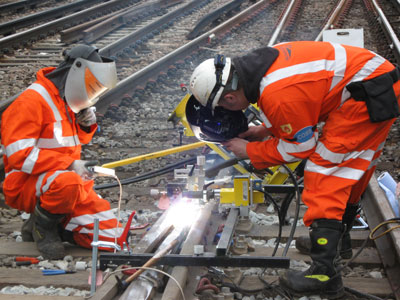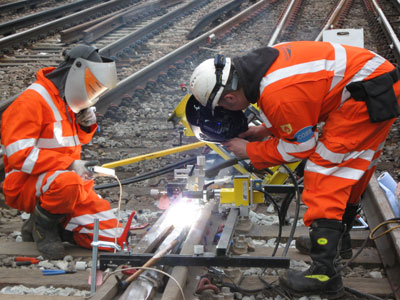 For 150 years, the railway has been the lifeblood of Britain, carrying people and freight across the country, bringing prosperity, jobs and ultimately, economic growth to the regions. Since Victorian times, our railway has been relied upon to keep Britain moving, and the responsibility to run, maintain and develop the infrastructure that supports this vital endeavour falls to the now publicly-owned Network Rail.
The scale of Network Rail's task is vast. As one of Britain's largest landowners, we employ a colossal 35,000 people across the country in a variety of roles with the responsibility to run, maintain and develop Britain's 20,000 miles of railway tracks and signalling, 40,000 bridges, tunnels, and viaducts, 6,000 level crossings, and 18 key stations. Over the next five years, Network Rail will spend and invest £38 billion into the railway in a bid to deliver better, faster, greener services, with improved punctuality, reliability and safety than has ever been experienced before. Fondly referred to as the 'Orange Army,' the frontline engineers Network Rail employs to deliver these vital upgrades represent nearly 20% of the workforce, and are responsible for enabling over four and a half million journeys to take place, every single day. Over the past 20 years our railway has seen tremendous growth over doubling its ridership in that time. The railway is the lifeblood on which our nation depends, generating wealth valued at £12.8 billion a year and this unprecedented growth is set to continue, so by 2020, another half a billion rail journeys each year will be made and Network Rail will rely on its Orange Army more than ever.
Vital upgrades to a live network
The future of our railway lies in harnessing technology that is available right now. Today we still use technology that fundamentally hasn't changed from when it was first invented in the 1840s. We've inherited an ageing Victorian rail network, parts of which hark back to Brunel days and are in desperate need of upgrade and modernisation; electrification, signalling replacement, track and ballast renewals, bridge repairs, switches and crossings upgrades – all of which are absolutely essential to running an efficient, safe and reliable railway that is experiencing ever increasing demands on capacity.
These multi-million pound projects are being delivered all over the country, by engineers just like myself, 356 days a year. A mammoth strategic, logistical and operational task as it is, the work is further compounded as the upgrades must be completed while still maintaining an operational service to passengers. We must carry out our engineering at night when trains are not running, during bank holidays or weekends when traffic is low, or occasionally side-by-side a live network if alternative routes can be found. Impact to passenger travel is always a top priority and we try to minimise disruption wherever possible. It's a tricky balancing act of carrying out upgrades to improve future travel, without disrupting current services. Either way, the travelling passenger is always front of mind.
When things don't go to plan
An extraordinary amount of planning goes into preparing for large-scale engineering projects. This begins months in advance, and looks at train services, passenger impact, resources, equipment, availability of support vehicles, staff, safety concerns, and costs; interconnecting aspects that all must be evaluated and considered. But even so, occasionally these planned upgrades do not go to plan. And when they go wrong, the impact can be massive, as was the case during Christmas 2014. Although passenger numbers can drop by up to half during Christmas and bank holiday periods, an engineering overrun can still affect thousands of passengers and draw an awful lot of media attention.
The final quarter of 2014 was, to some extent, dominated by events over Christmas. Overruns at Paddington and King's Cross caused significant inconvenience to passengers on 27 December. I was part of an army of 11,000 railway engineers working over Christmas on a record-breaking £200 million national investment programme. 300 different projects across 2,000 worksites included delivering new station facilities, new platforms, new flyovers, new junctions and installing thousands of pieces of new, more reliable equipment. Across the country, the investment programme over Christmas also saw some 55km of rail installed, 120,000 tonnes of ballast used and 28,000 railway sleepers replaced. Yet despite the scale, and despite 98% of all the projects completing successfully and without passenger impact, the two overrunning projects at Paddington and King's Cross have potentially marred the whole scheme, and will sadly be everyone's memory of it.
Network Rail issued repeated apologies and came under enormous scrutiny, rightly so, from government, the public and the media. We sought to understand why these events took place, and what we have to do to reduce the chances of any repetition. The bosses at Network Rail swiftly committed to producing a report into what happened and published it little more than a fortnight after the events themselves. The explanation is complex at some levels, but also quite simple. In very complex projects such as this, sometimes simple things go wrong which can snowball in short periods of time to become major issues. The report describes a number of improvements that must be made for future, three of which deserve special prominence. We will:
Improve the effectiveness of our project and operational contingency plans so that we put minimising passenger disruption at the very heart of our planning
Improve our management of the performance of critical contractors and, in the case of one specific contractor, do a better job of working with them to improve their signalling commissioning process
Work with industry colleagues to improve service recovery and to provide better information to passengers.
Joining the Orange Army
Having left school at 16 with mediocre GCSEs, I decided to join the army. After basic training, I felt drawn towards specialising in battlefield engineering and trained at Gibraltar Barracks, Camberley – eventually passing out as a Royal Engineer. After additional training at the Royal School of Military Engineering (RSME), Chatham, I was posted to 26 Engineer Regt. Ludgershall, part of the Perham Down Garrison, near Andover. I worked all over the world; Canada, Kenya, Norway, and served in Afghanistan in 2007 as part of Operation Herrick Six, spending a lot of time in Sangin DC during the tour. The experience I gained was tremendously valuable and shaped me into the man I am today. I've always had an interest in electronics, building and engineering, so when I left the army, I joined Network Rail as an apprentice at the age of 24. After completing my apprenticeship, I went into a technician's role in conductor rail engineering, and I'm proud to now be part of the Orange Army.
Every year, 20,000 people leave the UK armed forces, 80% of which are under the age of 40, and 50% under the age of 25. In addition to this natural turnover, the Ministry of Defence has announced its intention to cut 29,000 military and 25,000 civilian posts by 2015. As a result, large numbers of ex-service personnel are finding themselves entering an already difficult job market.
Network Rail regards those with military experience in high esteem; they're disciplined with a certain rigour, tenacious, look for solutions, have a good team ethos, loyal and selfless individuals. They have excellent planning, organising, teamwork, communication, management and leadership skills, honed in some of the toughest environments around the world. Often, they're already trained in a number of vocational skills relevant to an engineering career with Network Rail (welding or bricklaying, for example).
The Army and Network Rail have similarities – the challenges, pressure, a professional can-do attitude, where every day is different, and a strong teamwork ethos. But the biggest connection is safety. Those with a military background will know that keeping yourself and your colleagues safe is a top priority in the Forces. And it is for us too. A decade of investment, targeted improvements and a commitment to efficiency means that Britain now has the safest, fastest-growing railway in Europe, where there have been no fatalities from train accidents in the past seven years.
Continuing this growth and unlocking the potential will require the best brains our country, and the world, has to offer. We'll need great engineers to drive through innovation and solutions and the best people to help us unlock the railway's technological transformation.
Find out more by visiting www.networkrail.co.uk/careers.