European mixed traffic: High-tech solutions to optimise performance and LCC
In an interview with Craig Waters, Editor of Global Railway Review, Dieter Fritz, Chief Executive Officer of voestalpine VAE GmbH and Frederick Kübler, Chief Sales Officer of voestalpine Schienen GmbH, discuss the customer-beneficial synergies between the group's rail and turnout businesses, plus their future expectations with regard to European market developments.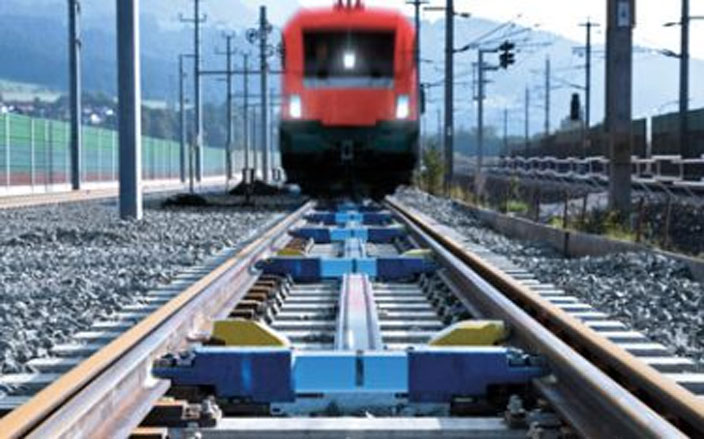 Waters: voestalpine enjoys a worldwide reputation as technology and quality leader; how would you assess the specific prospects of your rail and turnout businesses?
Kübler: We move ahead on the innovation-focused growth track that forms the lynchpin of our strategy. Our dedicated rail mill at Leoben/ Donawitz is by far the largest in Europe. It also ranks high as one of the most powerful worldwide, for example it features the highest heat treatment capacity, globally. To cope with customer demand for voestalpine high-performance rails we added a fourth daily shift this year; quite unique in our industry nowadays, considering most of our competitors currently suffer from a serious underutilisation of assets! For us there is no problem, as long as the premium market is growing and we stay ahead of our competition with products like the 400 UHC® HSH® rail grade for the European mixed traffic, as it performs two times better than ordinary premium rail steels.
Fritz: The same applies to the voestalpine turnout business unit which of course uses the rails that are supplied from her sister company whenever possible. Being the global market leader with approximately 45 local production sites – that means not only throughout Europe, but also in the NAFTA, South America, the Middle East and Africa, China, India and Australia to name only the most important regions – we deliver trendsetting switch and crossing solutions for the most demanding requirements as well as services from planning up to maintenance. Especially fast-growing high-tech products are advanced turnout setting and monitoring systems – I think it is correct to say that our signalling technology is setting new benchmarks.
Would you agree that nothing in our fast-changing world can be just positive and certain challenges can occur?
Kübler: Of course, success creates opportunities and also challenges. What becomes more important is the flexibility which customers rightly expect also in the so-called heavy industry. For us this means more rolling campaigns with smaller production lots, an even greater diversification, and shorter lead times. The rest is the normal job of a premium supplier: top-notch technological innovation, constant significant investments and world-class management systems, not to forget excellent customer partnership relations. Each factor must be in perfect match with each other to fulfil or actually exceed the expectations of our customers every day.
Fritz: Here again the market perception of our business units is identical. Anyone of us is strong enough to take on any challenge. But together we can do even better. All-in-all, voestalpine is the only corporation worldwide which possesses a global player each for rails and turnouts under a single roof. Therefore the target is to stronger utilise synergies between the rail and turnout business in the future and to work on a mutually positive long-term cooperation experience for further strengthening our ties! With our integral know-how and keen sense for future developments, I may say that we unite product excellence with system competence more than any other track product supplier. I am convinced that this approach will further contribute to customer benefit and this meets our overall target to strengthen the competitiveness of the railway industry.
Can you give us an example of how voestalpine will put this strategy into actual practice?
Kübler: Let's take Australia as an example business case for this new integrated market approach; it is a continent which features the seventh largest rail network in the world that is continuously expanding. Both voestalpine railway infrastructure business units have been successfully active in Down Under for decades. Turnouts are locally produced by voestalpine VAE Railway Systems Pty Ltd, while rails are supplied from Austria to mining companies, other rail freight customers and urban transport operators. By the way, just this year we celebrated 20 years of cooperation with Yarra Trams in Melbourne, which possesses the largest tramway network worldwide.
Fritz: To extend our leadership in the Australian railway infrastructure sector, voestalpine recently has acquired the Bathurst Rail Fabrication Centre (BRFC), a specialist for high-quality welded rails, turnouts, and track components. BRFC is one of the largest railway system providers in Australia and the key track competence centre for Sydney Trains. As a result we (the rail and turnout business units together) are synergistically expanding our product and service range to cover all customers from heavy haul to passenger railway traffic, and expect to establish new business opportunities in all infrastructure sectors.
Various cooperative models in this, or a similar way, will be developed in and outside Europe.
So, what about the extension of the value added chain by services?
Fritz: With our global experts, we not only offer optimised product packages but also a comprehensive range of services. In the area of turnouts this includes surveying, transport of pre-assembled turnouts to the site for plug-and-play installation, inspection, maintenance and even recycling services.
Kübler: In this area, our focus lies on the rail centres which are specialised in the deployment-specific customisation of rails by adding insulated joints and transition profiles, machining and joint welding to manufacture rail strings that are transported to the respective sites by so-called Long Welded Rail Trains.
Anyway, rail welding demands significant know-how and certain recommendations must be complied with to produce flawless results. To facilitate these procedures, especially for heat treated premium rails, we have established a new unit called the Competence Centre Welding (CCW). Together with our colleagues from the turnout side and of our mutual sister business unit voestalpine Böhler Welding, we practice applied innovation to reduce rail customer problems – again leveraging on synergies which hardly could be realised by a single company.
Last but not least, what are voestalpine's expectations with regard to European market developments?
Kübler: As far as public procurement is concerned, we expect some fundamental changes. There is an EU directive which requires the mandatory implementation of the 'Most Economically Advantageous Tender' principle; in short, 'MEAT'. True, some infrastructure managers already apply LCC and other defined criteria in addition to the mere purchase price of a product. Others, let me say the majority, have a way to go still. But hardly anyone sees a reasonable alternative to the necessity of a significantly improved track performance, while maintenance cost are to be substantially reduced. We are on board through UNIFE, the association of the European supply industry, and hope for a good dialogue between the stakeholders.
Fritz: voestalpine is absolutely convinced that only a high-tech approach can bring sustainable success. Therefore, both our business units are also leading industrial members of the Austrian consortium which has been established to participate in the Shift2Rail Undertaking of the European Union. Shift2Rail will be the first Europe-wide rail technology initiative to seek focused research and innovation as well as market-driven solutions by accelerating the integration of new and advanced technologies. Specifically, the project aims to double the capacity of the European rail system, increase its reliability and service quality by 50%; all while cutting lifecycle costs to half.
May I add for the infrastructure part that this is no doubt possible, subject to a comprehensive whole-rail-system approach, with a particular emphasis on vehicle-track-environment interactions. We therefore trust that the unreserved cooperation between two R&D committed rail and turnout manufacturers under a single roof forms a distinct advantage to maintain and even strengthen the European technological lead in this area. Anyhow we will do our best to remain One Step Ahead.
Biography
Based on a technical education, Dieter Fritz joined the turnout operations of the former VOEST-ALPINE in 1980 and held various executive functions in the area of internationalisation and marketing, including top management positions in Austria and in affiliated companies abroad. In 2001, Dieter became Speaker of the Management Board of VAE Eisenbahnsysteme GmbH, and since 2011 he has been the CEO of the voestalpine VAE GmbH Group – voestalpine's globally active business unit for turnout systems.
Having studied Civil Engineering and Business Administration, Frederick Kübler held a number of high level positions in the infrastructure industry, among others with Siemens Transport Systems and Pfleiderer Infrastrukturtechnik in Germany, before he joined voestalpine Schienen GmbH in 2003. He is Managing Director and Board Member of the company, responsible for the worldwide sales and marketing activities of the rail technology business unit.
Issue
Related organisations