Keeping lone workers safe and supported with live video
Richard Revis, Senior Manager – Bodyworn at Digital Barriers, comments on how railway workers who often work alone or operate in remote areas, deserve the security of knowing they have support and assistance on hand in an emergency…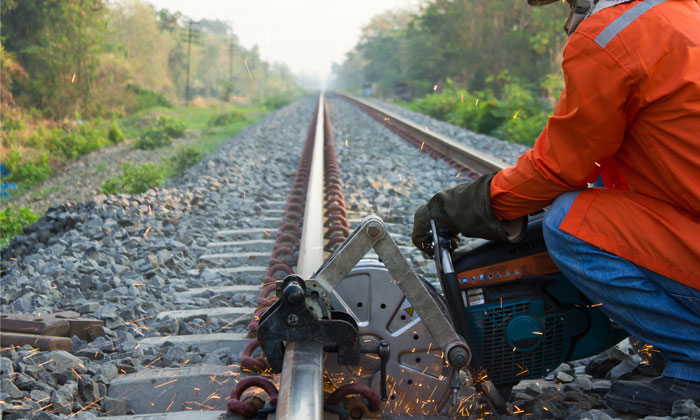 According to the British Security Industry Association, more than six million people1 in the UK work in isolation or without direct supervision. Lone workers are also often situated in places or circumstances that put them at potential risk. Understandably, working alone on the rail itself can be particularly dangerous with many lines reaching speeds of 200-230km/h, and the Channel Tunnel Rail Link reaching speeds of 270-300km/h. The network's 32,186km of railways are arguably the lifeblood of the UK and are constantly undergoing improvement and modernisation, requiring large amounts of manpower to keep them in peak condition. In 2018 alone, we will see the continuing development of the new Elizabeth line across London and High-Speed Two (HS2, the £56 billion rail network between London, the West Midlands and the North), the full electrification of the route between Preston and Blackpool North and an upgrade of Derby's 50-year old track layout, amongst other planned improvements2.  
The UK rail industry employs more than 190,000 people3. Many of these people work alone – not just those on the track, but also ticket office and platform staff, train managers and delivery drivers, all of whom require safeguards and reassurance. Rail operators' safety focus tends to be on track workers, but recent figures suggest that rail workers are more likely to face assault compared to employees of any other sector. Customer-facing rail workers often have to deal with abuse from passengers, particularly those under the influence of alcohol and drugs4 who can be more aggressive and unpredictable.
In contrast, according to the UK Government, the UK rail network is one of the safest in Europe and no railway workers have died in a mainline train accident for 10 consecutive years5. On the other hand, since 2002, there have been 164 major rail worker casualties for a variety of different reasons. All workers need to be kept safe, regardless of the type or severity of risks that they're facing.
Safety for lone workers
There are incredibly stringent regulations for lone workers in the UK and they are expected to be kept safe with a combination of practice, technology and standards. Employee safety should be a key driver of equipment purchasing decisions and employees should be taught how to assess all risks that they may face daily in their role. Employers should also be aware of their legal responsibilities which include protecting staff with robust health and safety measures.
Technology is a critical part of protecting lone workers. In the lone worker environment, technology needs to be available for workers to use during an emergency and to collect information for evidential purposes. The devices that are currently being used leverage mobile phone technology to connect workers with emergency response systems and law enforcement. Workers are required to send a pre-activation message to inform an alarm-receiving centre whenever they enter an area of potential risk. If a situation arises, they must trigger a feature on their device which opens an audio channel with the alarm centre. The centre then needs to assess, via audio, if emergency services are required.
This solution isn't as efficient and thorough as it could, and arguably needs, to be. Workers are required to press buttons on their device when potentially they could need to react to situations around them. As well as this, emergency services may struggle to understand a situation if they're receiving just audio from a worker's device.
Bodyworn cameras: Not just for police
Bodyworn cameras are already utilised by certain police forces and emergency services in the UK, although these groups tend to use record-only devices which film the incidents for after the fact evidence purposes. These do not help respond to attacks that are taking place in the present.
However, with the right technology in place, it is viable to stream live video back to a control centre which can give advice to deal with the situation or call for immediate help. In the train station context, a lone worker could trigger the live streaming capability if they felt in danger of being assaulted by an intoxicated passenger – this would stream live video to a control centre which would then assess whether the situation could be handled with the supervisor's advice alone or if emergency services needed to be contacted. In the case of a lone worker on the train tracks who felt in danger, this could also trigger live GPS tracking so that they could be located quickly and efficiently. Furthermore, this technology could be integrated with existing panic buttons, to make workers feel secure and give supervisors peace of mind that their teams are safe when alone on the ground.
Live video from anywhere to anywhere
Historically, the feasible cases for live streaming video were limited due to the high cost of streaming data and the fact that certain areas have very low connectivity; making it a challenge to stream from. The latter point is particularly prudent for the individual working on a remote part of the railway, from Blaenau Ffestiniog in North Wales to Corrour in the West Highlands for instance.
While dedicated first responder networks are being revamped across Europe to provide higher bandwidth capabilities, these are likely to be expensive to access and may not be extended to all rail workers. There will also still be problems using this new emergency capacity when sending lots of video data as police and other statutory bodies have the priority on network capacity. It is much more practical to operate using commercial 2G, 3G and 4G services.
It is now possible to work within the constraints of these networks using codecs (encoding and decoding algorithms) that were developed for military use. These codecs provide reliable and secure video over ultra-low bandwidths, meaning they can cope when networks become constrained or if the camera wearer is moving. Interestingly, the technology and capabilities are there for a similar price to the bodyworn cameras currently in use. With the cameras at the same price and little data being required, thanks to the efficiency of the codec, monthly SIM card costs are very low.
Being a lone worker is psychologically taxing work, particularly for those in remote areas, at night, and for those that are required to work long shifts completely alone. Workers deserve to know that they have an extra pair of eyes looking out for them if an incident takes place and they need assistance. Live streaming video from bodyworn cameras can help.
References
Biography 

Richard Revis is a Senior Manager at Digital Barriers specialising in the development and delivery of a wide range of technologies in complex environments, including live video streaming from bodyworn devices combined with facial recognition and analytics on the edge. With a Master's in Systems Engineering coupled with vast commercial experience, Richard has a broad skill set and has worked within many large organisations including PwC and BAE Systems.
Related topics
Related organisations
Related people