XRL: Bridging the high‑speed gap between Hong Kong and Mainland China
Jeremy Long, Chief Executive Officer – European Business of MTR Corporation, provides a project overview of the 26km-long Hong Kong Section of the impressive Guangzhou–Shenzhen–Hong Kong Express Rail Link (XRL), including tunnel construction methods, details of the new Hong Kong West Kowloon Station and the overall benefits that will be attainable once the line is complete.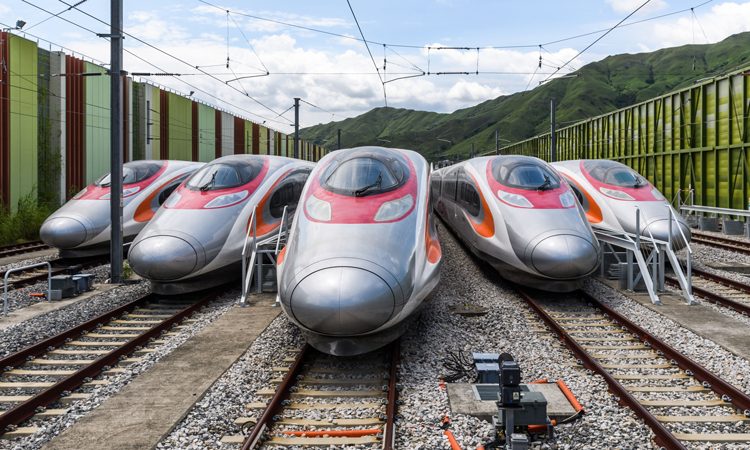 XRL high-speed trains will operate at speeds up to 300km/h on the above-ground Mainland Section
Although geographic neighbours, Hong Kong and Mainland China have never had a high-speed rail connection. For decades Hong Kong has had a high quality and modern rail system and in the Hong Kong Special Administrative Region's Railway Development Strategy 2000, the idea for the Guangzhou–Shenzhen– Hong Kong Express Rail Link, or XRL, began to gather pace. In 2008, MTR Corporation was invited by the Hong Kong Government to carry out the planning and design of the 26km-long Hong Kong Section of the high-speed rail line connecting Hong Kong with Mainland China's currently 25,000km-long and ever-expanding high-speed rail network.
Representing an investment of HK$86 billion (approximately £8 billion), construction of the Hong Kong Section began in January 2010, with the project expected to be commissioned in September 2018. Upon completion, high-speed trains on the new line will run across Hong Kong, to Shenzhen and to Guangzhou within an hour. The Hong Kong Section of the XRL will operate in entirely dedicated tunnels, which added to the enormity of the project.
Under agreements with the Hong Kong Government, MTR Corporation has been responsible for the entire delivery of the project with as little disruption as possible. This has included the design, strategic planning and construction of not only the tunnels and tracks, but the essential West Kowloon Station, reconfigured road system and footbridges. Having to construct a brand-new tunnel system under extremely valuable, busy and built-up areas, as well as tunnelling through differing terrain and geology, the project was always going to represent a challenge to MTR Corporation, yet one that it has taken in its stride.
Construction methods
Delivering a project of this magnitude required MTR Corporation to draw on its considerable experience of railway infrastructure construction, using a variety of methods for the XRL tunnel. The 'cut-and-cover' method, where the structure is built inside a trench which is then backfilled, was used in the construction of facilities such as West Kowloon Station and the Emergency Rescue Sidings. The 'drill and blast' method, which is particularly effective when tunnelling through rock, was utilised for the 7.6km-long tunnel that runs through Tai Mo Shan between Tse Uk Tsuen and Shek Yam, with breakthrough of the tunnel achieved in March 2014. During the construction of this segment, more than 1.72 million metres3 of rock was removed and 282,000m3 of concrete was used for tunnel linings and internal structures.
However, one of the most effective methods has been the use of Tunnel Boring Machines (TBMs) in the main tunnels in Yau Tsim Mong, Sham Shui Po and Yuen Long districts. Each TBM weighs more than 1,000 tonnes and is activated with 5,000kW of electricity; enough energy to light 50,000 lightbulbs. Every TBM must be tailor-made to the specific conditions of the tunnel required. It can excavate and remove materials at the same time as installing the reinforced concrete lining of the tunnel and doesn't disrupt the road surface above – a critical benefit in the built-up areas of Hong Kong.
Safety and workforce requirements
As XRL has its own purpose-built tunnels, safety has always been a top priority for MTR Corporation. Emergency Rescue Sidings are located at Shek Kong with emergency access points along the tunnel alignment. During construction, safety was paramount for the construction teams. Throughout the project, MTR Corporation has run a New Worker Caring programme to ensure new workers are thoroughly aware of all health and safety procedures.
Construction of the project has been delivered by a highly-skilled and dedicated workforce, which at its peak numbered 8,000 construction workers as well as technical and professional staff. MTR Corporation has had to work closely with its contractors to ensure the staff requirements are met. This has included a number of work fairs, with two alone in 2011, which saw leading contractors advertise 2,000 vacancies for more than 30 categories of work in February and another 1,500 construction vacancies in October.
XRL Rolling stock
For the XRL, MTR Corporation ordered nine high-speed trains from CSR Qingdao Sifang Co. Ltd, at a cost of HK$1.74 billion (approximately £165 million). Each eight-car train has seating for 579 people and will operate at speeds up to 200km/h in the fully-underground Hong Kong Section and 300km/h on the above-ground Mainland Section. All trains are fitted with video display screens so passengers can remain informed, connected and comfortable on their journey. The completion of the trains' delivery in August 2017 was marked by the XRL Train Open Days in October 2017. Members of the public were given the opportunity of guided tours on the trains and further information about the line. With over 3,000 members of the public attending, the Open Days were a great success and demonstrated the excitement surrounding the project.
Hong Kong West Kowloon Station
The development of the new 11-hectare station at West Kowloon has been one of the key achievements of the XRL project. Set across five main levels, most of which will be underground, the station will include customs, immigrations and quarantine facilities to help manage the interchange of people from Hong Kong and the Mainland. In total, there will be 15 tracks, six short-haul and nine long-haul, of which 10 will be in operation when XRL opens in September 2018. Outside, a plaza of approximately 8,900m2 in area will be entirely pedestrianised for public use and landscaped with plants and trees.
Situated in the heart of the city, West Kowloon Station will be a railway hub with connections to the rest of Hong Kong, including convenient links to Kowloon Station, which serves the Airport Express and Tung Chung Line and Austin Station on the West Rail Line, both within a few minutes' walk of the station. Footbridges and subways are constructed to make the station as accessible as possible and ensure this new hub will be efficient for passengers.
Benefits of the XRL project
The completion of the line will mark a major step in the connections between Hong Kong and the Mainland, enabling faster transits between the areas with even more passengers. One hundred and twenty-seven train pairs are expected to operate daily, comprising 114 pairs of short-haul trains and 13 pairs of long-haul trains during peak periods at the early stage of commissioning (actual number will depend on the passenger volume). The short-haul trains will run among West Kowloon Station in Hong Kong, Futian Station and Shenzhen North Station in Shenzhen, Humen Station in Dongguan and Guangzhou South Station in Guangzhou. Direct long-haul trains will also reach various cities in Mainland China including Beijing, Shanghai, Kunming, Guilin, Guiyang, Shijiazhuang, Zhengzhou, Wuhan, Changsha, Hangzhou, Nanchang, Fuzhou, Xiamen and Shantou.
The improved travel times and brand-new station are just some of the benefits the XRL project will deliver to Hong Kong. Direct access to the Mainland's ever-expanding high-speed rail network for the first time will help to reinforce Hong Kong's position as a regional transport hub, as well as enhance economic, cultural and social exchange with the Mainland. Located near the West Kowloon Cultural District, West Kowloon Station creates synergy with this world-class arts and cultural district. Art lovers can easily visit this vibrant cultural quarter with XRL for performances and exhibitions which can help promote Hong Kong's status as an events capital. Tourism, financial services and professional services are all expected to benefit from the development of closer links enabled by XRL.
The benefits are not just economic however, Hong Kong's investment in high-speed rail also represents an investment in greener travel. XRL will be the ideal choice for travellers who care about the environment as carbon emissions of high-speed rail are approximately only 15 per cent, and 25 per cent of those from aircraft and buses.
Conclusion
When XRL begins operation towards the end of 2018, MTR Corporation will be proud to have implemented a transformative project that will improve customers' rail experiences through increased comfort and journey time saved. While it has certainly been a challenging project, it has provided MTR Corporation with the opportunity to build further valuable experience. This includes not only the integration of a brand-new line into an existing high-speed rail network, but also the construction of such a line in busy areas and through often difficult geology. This experience will continue to serve MTR Corporation and its customers well in other markets around the world.
Biography

As Chief Executive Officer – European Business of MTR Corporation, Jeremy Long leads MTR's European business development activity and oversees MTR's business interests in Europe.