The new voestalpine Railway Systems: Redefining top performance
In an interview with Craig Waters, Editor of Global Railway Review, Dieter Fritz, Frederick Kübler and Jochen Holzfeind, Board Members of the newly‑established voestalpine Railway Systems, present their views on the future of rail infrastructure.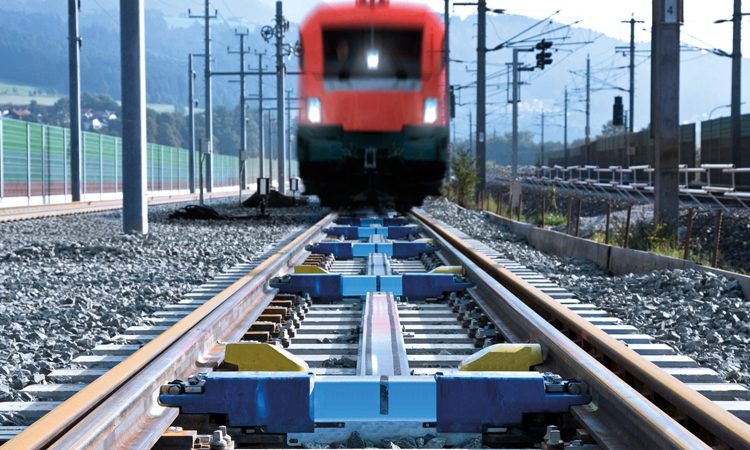 Given the overall scenario of changing players and markets, how would you explain the basic positioning of voestalpine Railway Systems?
FRITZ: It is not only unique but a product of an even stronger customer focus than before. In April 2018 the Rail, Turnout Systems, and Signalling Technology businesses of voestalpine – each one a global player acknowledged for both technology leadership and the creation of outstanding customer benefit – were regrouped under the 'Railway Systems' umbrella. The mission of the combined unit, which remains fully-owned by the technology and capital goods group voestalpine AG, is defined by the basic values of mobility, innovation and sustainability.
KÜBLER: As this move, however, did not change the legal status of the various individual companies, Dieter Fritz and I remain the CEO's of voestalpine VAE GmbH and voestalpine Schienen GmbH respectively. Nevertheless, the consequences are far-reaching because we have now established a well-structured synergy platform for our cooperation that has already proven extremely efficient and successful in the past. Accordingly, 'voestalpine Railway Systems' is positioned as the first and worldwide leading system house for rail tracks. The objective to boost the operational system lifetime and simultaneously cut down the life-cycle cost (LCC) is expressed by our new business claim: Performance on Track®.
HOLZFEIND: Before I joined voestalpine Railway Systems as CTO, I was the Head of SBB's Track Asset Management unit. Therefore, I can claim to know both sides of the coin quite well from my own experience. In a nutshell: Infrastructure managers need integrated solutions which consider the specific network requirements. Consequently, the new market approach of voestalpine Railway Systems is no longer defined by individual company limits but by strategic business fields: Mixed traffic, urban (commuter/metro/tram), high-speed and freight (heavy haul/industry). For each area voestalpine is in a position to provide a complete system offer combining the portfolios of Rails, Turnouts, Signalling and Track Solutions.
What do you mean by the term Track Solutions?
KÜBLER: It is not an overstatement to say that Track Solutions will be the most coherent element of all. In this sense we identified the following four 'columns' which enable us to build an optimal result on them:
Prepare – consulting, engineering and training
Start – supply, logistics and initial service
Run – maintenance and recycling
Perform – track management.
Not everything is fully in place yet. For example, we've got to work on some Industry 4.0 features such as relevant algorithms and advanced Machine2Machine communication. Even though I think we are more advanced than others – 'One step ahead', as is the claim of the voestalpine Group.
FRITZ: While no other global manufacturer in the rail track area has a similarly wide-spread product and service portfolio under a single roof, voestalpine is continuously expanding into new fields: In early-2018, a worldwide cooperation agreement was signed with the Austrian company Getzner Werkstoffe GmbH whose common subject is the marketing, product development and production of elastic solutions for use in railway superstructures. In conjunction with approximately 50 global sites of voestalpine Railway Systems, I do not doubt this new joint venture will considerably contribute to a step change in the quality of our offerings.
HOLZFEIND: As their products help to reduce wear, vibrations and noise effectively, Getzner's expertise complements our system house strategy perfectly. Also, their customer benefit approach is pretty much the same as ours: To make a sustainable and thus valuable contribution to the efficiency and user-friendliness of rail transport. And just like voestalpine, Getzner satisfies the full range of requirements in railway applications, from local traffic to the transportation of heavy goods, with a positive result for the lifetime of the system.
With regards to the general buying policy of infrastructure managers, have you already noticed a change from the cheapest price as the only criterion to a multi-parameter set-up that is already the norm in many other industries?
HOLZFEIND: Sometimes yes and many times still no. But we have made some progress. System stakeholders understand more and more that railways, metros and trams hugely benefit from comprehensive and systemic digitalisation, diagnostic and monitoring systems, data analytics and preventive maintenance regimes. Given the competitive situation between the various transport modes, it is felt high time that any railway infrastructure-related public procurement is definitely steered into this direction without delay. In addition, we propagate the approach of proactive product design. By this we mean the development and introduction of maintenance-reducing components and systems as a significant contribution to the overall cost reduction. To realise this step, it is imperative to not only consider the procurement costs. The technical RAMS criteria are to be additionally appended with LCC and environmental relevant criteria as the basis of procurement.
KÜBLER: An entrepreneurial mind-set is required from all sides and should comprise of both buyers and suppliers. However, other system stakeholders that are destined to contribute include the European institutions and agencies, public-private partnerships and technology platforms (such as Shift2Rail and ERRAC), associations and academic networks. The cooperation should be as close as possible and be based on continuance, as future challenges can only be met by a partnership approach based on mutual trust.
FRITZ: But it is not only about value for money; strategical considerations also apply. The public sector can use procurement to boost jobs, growth and investment, and create an economy that is more innovative, resource- and energy-efficient and socially-inclusive. In this context, not only does LCC and performance criteria play a part, Corporate Social Responsibility (CSR) has an increasingly significant role too. Similarly to the whole Group, voestalpine Railway Systems is deeply committed to ecological sustainability. The CO2 neutrality of our largest turnout plant and the utilisation of the rail mill's waste heat for the district heating are just some examples which prove that environmental protection is among our top priorities.
KÜBLER: With our persistent input, UNIFE (the Association of the European Rail Industry) recently issued a Position Paper on the implementation of the 'Most Economically Advantageous Tender' (MEAT) principle for public procurement which is now discussed within the responsible European Commission Directorates and other railway associations. It is also an essential topic for the new official Commission Expert Group on the Competitiveness of the Rail Supply Industry, in which voestalpine Railway Systems is directly represented.
In a few weeks, InnoTrans will take place in Berlin. May I assume that the new voestalpine Railway Systems will roll-out its full scope on this occasion?
FRITZ: Yes of course. Our total stand area is approximately 1,000m2 over two floors and will present seven thematic cubes in a village-style setup to display our technologies for principle rail traffic modes, plus three dedicated areas to Corporate, Digitalisation and Track Solutions.
Furthermore, in connection with rail traffic modes, central positions will be given to voestalpine's Interactive Rail LCC Tool which calculates and visualises the relationship between initial investment and predictive maintenance expense in real time. The tool will also include a turnout function. Thus, our track experts will show – and visitors will be able to provide direct input on the basis of their own data – how system costs decrease substantially with the use of highly developed products, while track performance and availability drastically rise.
What product cases will you showcase?
KÜBLER: The most prominent product story for rail is no doubt the achievement of new track performance levels in European mixed traffic with the introduction of voestalpine's super-premium rail grade 400 UHC® HSH® (equivalent to R400HT according to Euronorm).
However, the picture would not be complete without mentioning the innovation activities in our Rail Centres, such as the development of next generation insulation rail joints which do not interfere with the driving dynamics or the driving energy of a train. Thus, increasing of the operational lifespan goes hand-in-hand with maximum comfort and minimal wear, less downtime and lower costs of unscheduled maintenance.
HOLZFEIND: Another current focus of our Railway Systems Technologies lies in the evolution and value-adding use of advanced digital products. For instance, there is the intelligent point machines which gather comprehensive condition monitoring data inside the machine and send it to the ROADMASTER® central management software and electro-mechanical end position detectors that are installed outside the track on existing sleepers. These simultaneously monitor the central position of turnouts as well as the position of the open and closed switch blades. Furthermore, not to forget is our newly developed rail expansion joints which cope with the substantial longitudinal movements of railway bridges without interfering with the building architecture or checkpoints with electronic sensors.
The challenge we have accepted is to put together these individual pieces of the puzzle into a meaningful and coherent overall picture and to develop and introduce total system-oriented solutions with our customers.
To summarise, your conclusion?
FRITZ: All-in-all, the new voestalpine Railway System will make sure it stands for all-out and calculable customer benefit: Advanced engineering that spans from the world's top metallurgy to smart diagnostic systems. Essentially to live up to our claim: Performance on Track®.
Biographies

Based on a technical education, Dieter Fritz joined voestalpine in the 1980s and held various management positions in the area of internationalisation and marketing. Since 2011 he has been the CEO of the voestalpine VAE GmbH Group, voestalpine's affiliate in the area of Turnout Systems and Signalling Technology and joined the Management Board of the division holding voestalpine Metal Engineering GmbH in 2018.

Jochen Holzfeind studied Civil Engineering at the Technical University of Graz. After working with ÖBB in planning and building new railway lines, he developed and led the Track Asset Management of SBB between 2010 and 2017. In September 2017, Jochen joined voestalpine and is CTO of Railway Systems.

After graduating in Civil Engineering and Business Administration, Frederick Kübler worked at Siemens Transport Systems and Pfleiderer Infrastrukturtechnik before joining voestalpine Schienen GmbH in 2003. As Managing Director and Member of the Board since 2004, Frederick heads the worldwide sales and marketing activities and is CEO of the business unit Rail Technology and Track Solutions.