The Spanish bogies and wheelsets market: Constant innovation for a new era
The rolling stock components market within the Spanish railway industry has grown significantly over recent years. Featuring at the forefront of the most demanded product and service ranking lists on a national scale, Pedro Fortea, Director at MAFEX – the Spanish Railway Association – says that its evolution is due to the ability to develop solutions adapted to the new needs facing the sector.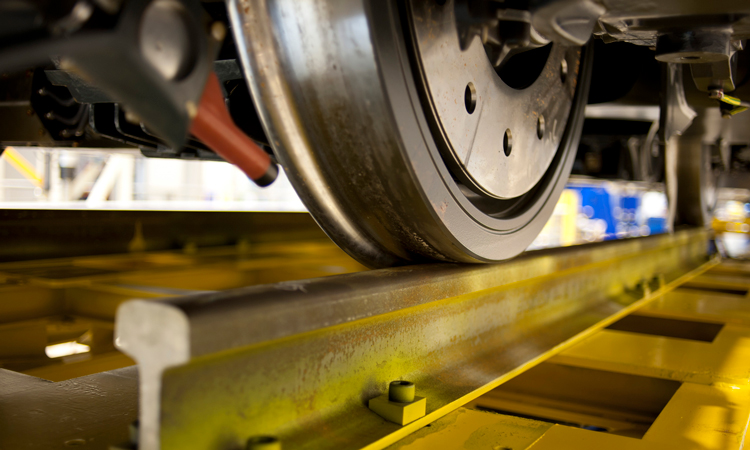 Technological advances in all aspects have been gradually introduced, ranging from the standardisation of bogies to as far as tools and technological applications that increase lifecycles, along with the efficiency and maintenance of wheels. Progress has also been made in the manufacturing of the latest generation of pioneering dampers and suspension elements, plus new variable width gauge axes for interoperability on freight networks.
The strident efforts undertaken in recent decades on the part of multiple agents that carry out their professional activity in the field of components, such as bogies and wheels, has led to the acquisition of valuable know-how and the development of an industry with a high level of specialisation and major exporter potential.
Innovative components and technological solutions for a new era
The fruits of this hard work on the part of its companies, notably in the field of research and development (R+D), the products offered and solutions that embrace the latest technology, are now implemented in more than 95 countries, in which their efficiency and reliability have been duly proven, thus positioning the Spanish railway industry at the forefront of these markets.
Amongst the numerous examples of tasks undertaken in terms of R+D, we have the accomplishments of companies such as AL-KO, which has positioned itself at the fore of the manufacture of dampers and suspension equipment. With more than 80 years' history, AL-KO has established a stronghold in more than 70 countries. Furthermore, AL-KO has developed a pioneering design and established a manufacturing centre located in the Basque Country in which more than 250 professionals are employed, devoting their time to research and engineering tasks that provide customised railway solutions. From there, all of the production plants are controlled (Spain, Germany and China).
The railway activities' portfolio includes a wide range of applications for rolling stock suspension, doors and pantograph systems. These components have already been incorporated into the trains operated by the main rolling stock companies for all types of service: locomtive, regional, metropolitan and tramways.
Another of the major contributions of the Spanish railway industry in this field is focused around the development of new technological and specialised consultancy services. In this field, NEM Solutions has established one of the most advanced tools for railway rolling stock management: the A.U.R.A Wheel. This involves a complete solution that allows for the optimisation of the lifecycles for wheels and their maintenance. To achieve this, all of the data gathered pertaining to different devices, advanced analysis of the wheel tread and dynamic scheduling based on condition has been pooled. This application has been exceptionally well received and, presently, handles more than 40,000 coaches and 35 million wheel measurements. Amongst the multiple reference points using A.U.R.A., worthy of special mention include: Metro Madrid, HTM, BRU, CAF, ACTREN, Renfe, Stadler, Alstom, Hitachi, Euromaint, Keolis, Washington Metro, Euskotren, TTC, CPTM, TCDD, SRO, CTA, and LA Metro.
Spanish progress in terms of standardisation relating to rolling stock components has also helped to position this industry at the forefront of the sector. Operators and manufacturers from around the world trust the highly-skilled abilities and competences of the independent and internationally-renowned testing laboratories for new bogies. A thorough undertaking requires demanding monitoring and a detailed analysis on the part of rigorously endorsed institutions. Take CETEST for example, which is officially accredited (ISO17025) as one of the exclusive laboratories in Europe capable of carrying out the complete homologation test package with the maximum level of assurances, in a flexible manner and with cutting-edge installations and equipment. For this reason, they have a thorough portfolio that deals with clients and offers a service that reduces standardisation times, thus ensuring the best results whilst minimising the technical risks as much as possible.
With a proven track record of more than 40 years' experience, railway testing undertaken by CETEST covers a wide range of technical disciplines such as ride dynamics, including instrumented wheelsets, structural resistance and fatigue for validation of bogie frames and bolsters, as well as components and subsets. This range is completed with the vibrations testing including modal analysis, electromagnetic compatibility EMC, traction, braking and pantograph validation testing, noise and acoustics and aerodynamics and climatic testing. Static tests according to EN14363 with portable test benches are also performed in order to assure the safety against derailment of a rail vehicle, along with 'souplesse' and bogie rotational stiffness tests; all in accordance with the established standards and norms related to bogie and vehicle homologation (EN13749, EN13261 and EN13262, EN14363, EN50121, etc.). CETEST has been performing these types of tests for clients such as Alstom, Bombardier, CAF, Nippon Sharyo, Amtrak, Matisa and Titagarh Wagons, among many others.
An additional factor in this industry rests in the major level of specialisation and technological resources used by its companies. In this sense, railway divisions such as the one belonging to DANOBATGROUP, provides complete machinery all over the world for axle, wheel, wheelsets and bogies for maintenance workshops run by railway manufacturers. Amongst these we can highlight the portal and pit lathes, wheel measurement equipment and dynamic testing benches for bogies. Along with the supply of this type of machinery, they also act as technological allies to provide comprehensive engineering solutions; from project planning to its final construction and subsequent working life. One of the most sizeable projects undertaken by the company is located in Australia where they have installed one of the world's most advanced automated workshops dealing with the maintenance tasks for mining trains in which they have fulfilled the need to integrate more than 30 pieces of equipment, robotic handling devices and a computerised system for comprehensive control of the line.
The challenge lies in enabling a complete set of installations located close to the mining operations, which are difficult to access and where there is a notable shortfall of local workforce. Therein, it is possible to perform, in an automated manner, the tasks involving the disassembly, repair, subsequent assembly and final inspection of all the components.
In the field of freight railways, major milestones have also been surpassed in recent years. Azvi, in tandem with other companies in the sector, for example, has managed to develop new axes offering variable gauge width for this type of transport. In this way, we have been able to overcome one of the main hindrances for rail transport between Spain and the rest of Europe, plus the rest of Europe and Asia: interoperability.
Based on a prototype from the 1960s, Azvi, Tria and Ogi embarked on the ECASYS project in 2014 to improve the design of variable gauge axes and gauge width change infrastructure. The new system is composed of an 'axle' that allows for the axial slide of the wheels. The most innovative part is the incorporated locking system, which forms a solid block without any additional mobile or rolling parts, thus ensuring the effective blocking of the Iberian and standard gauge systems. The axle, directly assembled onto the standard bearings of coaches and bogies, does not require any type of additional adaptation or frame. The process is performed automatically using a changer, without stopping the vehicle and without unloading each coach, at a passing speed of up to 30km/h.
Likewise, with regard to interoperability, companies such as CAF have contributed with significant progress in the field of railway transport, such as BRAVA – the self-propelled Universal Variable Gauge System. BRAVA allows railway vehicles to be adapted to any track width whilst running in a time of just three seconds. This new system can be applied to any type of train irrespective of its origin and technology. Also worthy of special mention, is the fact that the company has a specialist arm known as CAF MiiRA which is considered amongst the most advanced in the world in terms of design, manufacture, assembly and maintenance of railway wheelsets and their components: wheels, axes, gear boxes and axle boxes. This is the sole manufacturer capable of delivering a wheelset with a complete design: including the wheels, axes, gear box and the axle box itself. CAF MiiRA provides installations fitted with the most cutting-edge technology available, following a significant investment plan put in place in recent years. With its own steelworks, the company has first-rate responsiveness to the specific requirements of each project.
Research centres: Design of new materials and processes
Along with the companies in the sector, we also boast renowned and qualified research centres. The aim is to provide responses to the challenges set forth by the market and serve to improve the integration of rolling stock components whilst finding a solution to complex multi-disciplinary issues. In Spain, the research tasks undertaken have their main international reference point in the IK4 Research Alliance Centre. Ceit-IK4 focuses its workload on the design of new materials and processes along with railway dynamics. In the first case, the technical skills are based on research and advancements in improved qualities of steel used on tracks, wheels and wheel treads, propagation of cracks as a result of fatigue, tenacity and resistance to wear and tear. Work is also undertaken on improvements associated with thermal treatments to enhance quality in terms of brake shoes for high-speed rail vehicles, characterisation of defects, deterioration and service inspections.
With regard to railway dynamics, Ceit-IK4 is involved in working lines for measurement and analysis of the dynamic conduct of railway vehicles, corrugation and noise or modelling and testing of components. Its research team also provides new testing processes for the measuring of axle loads, mechatronic systems, as well as the effect of transversal cross winds on the circulation of railway traffic.
The works carried out in the aforementioned fields have been added to by companies which have contributed with significant improvements in bogie washing processes; a key factor in the wholescale maintenance of components. Protocols that involve the handling of mobile pieces of railway vehicles require special attention and greater care should these be subject to wear and tear. For this purpose, companies such as Aquafrisch have developed a series of automated equipment specifically designed so that the task can be considerably facilitated by turning this into a simple, clean, fast and effective process. Furthermore, these are distributed to the most renowned railway manufacturers' workshops throughout Europe.
All of these developments are merely some examples of the current state of play in the Spanish railway industry that has placed us in the position of one of the most advanced on the world stage in terms of innovative solutions and with a significant technological input.
Biography

After spending some years as the Assistant Manager of Fundigex – the Castings Exporter's Association of Spain – Pedro Fortea became the Director of Mafex in 2004 and has helped to develop its professional activity. Pedro studied at ESADE Business School, Escuela Universitaria (Cámara de Comercio de Bilbao) and Deusto University.