Real trains, not road trains
At a time when Australians want safer roads, less traffic congestion during their daily commute and lower carbon emissions, government policies are largely geared to rolling-out heavier and longer trucks. As CEO of Australia's largest rail freight company, Pacific National, and Chair of the Freight on Rail Group of Australia (FORG), Dean Dalla Valle explains why he is determined to help give rail freight a stronger voice.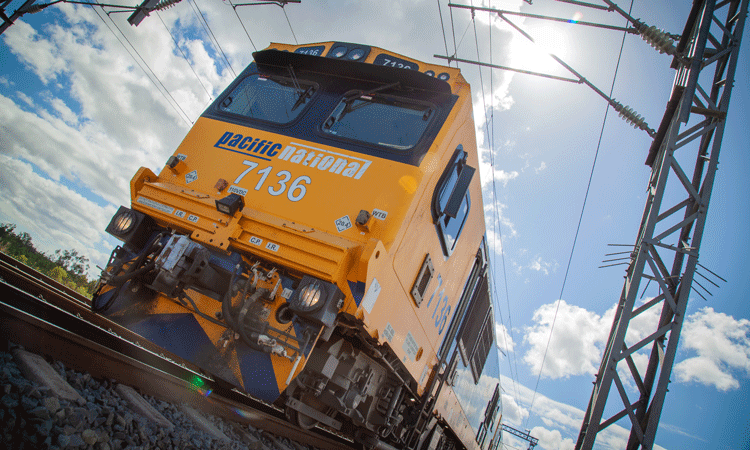 FORG is made up of Australia's largest rail freight operators and 'below-track' infrastructure owners. Combined, we contribute more than $11 billion each year to the national economy, employ almost 20,000 people, and operate in every Australian state and territory (except Tasmania).
FORG members intimately know the freight networks they operate on and the many opportunities and challenges facing our sector. As such, we represent an important source of information and advice to help governments tackle issues.
Growth in population brings rail freight challenges
Let me quickly paint a picture of the forecasted rise in Australia's population and the associated monumental freight task before us.
Australia's population is expected to double by 2075, if not before. Most of this growth will be concentrated in our major capital cities, with a rising growth rate in the north of the country.
Interestingly, the national freight task is expected to grow disproportionally to population – to double by 2035 and triple by 2050. In New South Wales (NSW) alone, the freight task is expected to double by 2031. 
If you exclude bulk commodities such as iron ore and coal, you will find road transport currently dominates the cross-country movement of freight.
For example, the road freight task between Melbourne, Sydney and Brisbane is forecast to reach around 140 billion tonne kilometres by 2030, up from around 60 billion tonne kilometres. That's roughly the size of France's current entire road freight task.
As you can see, our major motorways and highways are at risk of becoming a conveyor belt of trucks. 
Trucks will always dominate 'last mile' trips to distribution centres and supermarkets, but we need to do better to shift freight to rail over longer distances. We need policy that supports this modal shift.
The advantages of rail freight
Let me focus on the advantages of rail for a moment.
Why rail freight?  Three words – safety, congestion and emissions.
I'll refer you to some figures from Deloitte Access Economics, which while not telling the whole story, gives you an appreciation of some of the key benefits of rail freight. It is estimated:
A typical freight train can haul around 200 20ft containers – the equivalent of taking approximately 65 B-double trucks off the road
Per tonne kilometre travelled, rail freight produces 16 times less carbon pollution than road freight, while the cost of road freight incidents and crashes are 14 times more than rail.
These are compelling statistics that put rail firmly on the right side of the debate.
Increasingly, our society is placing more emphasis on such externalities as opposed to just the cost and speed of freight transport. In other words, changing community attitudes will inevitably drive disruptions in our supply chains and I believe rail freight is ideally placed to meet future demand.
Changes to regulations
Unfortunately, I don't see any rail advantages being adequately built into charging models for transport in Australia; indeed, long-overdue and much-needed reforms in the critical policy area of heavy vehicle road usage pricing have largely come to a grinding halt. Meanwhile regulators continue to be preoccupied with targeting diesel emissions from freight locomotives.
I suspect it's a lot easier for regulators to pursue the nation's small locomotive freight fleet opposed to monitoring hundreds of thousands of trucks running on Australia's massive open road network.
A 2017 federal government report found freight and passenger rail transport accounted for a mere four per cent of total transport sector greenhouse gas emissions1.
In comparison, the report found heavy vehicles in 2017 accounted for more than 20 per cent of total transport emissions in Australia; growing to almost 30 per cent by 2030.
Such 'policy prejudice' against rail will result in added regulatory burdens for freight operators, needlessly driving up operating and compliance costs in the sector.
This will have the effect of forcing freight from rail to road, generating even higher volumes of emissions in Australia's transport supply chain.
Key decision-makers in government can also help ensure a level playing field for freight transport by ensuring what I like to call 'fit-for-purpose' regulation.
Thankfully, since 2012, in Australia, we have had a single safety authority in the form of the Office of the National Rail Safety Regulator (ONRSR).
The next step is to follow the example of the trucking industry with a regulator that also looks at productivity. The National Heavy Vehicle Regulator has safety, efficiency and productivity enshrined in its mandate…it's now part of that industry's DNA.
Regulation, in general, should take a risk-based approach that is outcome driven; not prescriptive. The rail freight sector needs to be regulated to actual risk, not perceived risk and certainly not outdated historical risks.
Fortunately, the leadership of ONRSR has displayed a genuine commitment to working closely with industry to modernise the approach to regulation.
At a time when Australians want safer roads, less traffic congestion during their daily commute and lower carbon emissions, government policies are largely geared to rolling-out heavier and longer trucks.
As a case in point, the National Heavy Vehicle Regulator, which regulates the trucking industry, recently approved the roll-out of a 105-tonne 36.5m-long B-Quad truck on select routes on the east coast of Australia.
Getting the balance right
Don't get me wrong: I see the obvious freight productivity benefits, but how much bigger and heavier do we want trucks on our roads to get? What's the upper limit?
The trucking industry must be congratulated for the strength and intensity of its advocacy. I admire how truckies make no apologies for being single-minded in their pursuit of extracting from governments major concessions in efficiency, productivity and road access.
Now, it's time for the rail freight industry to have a voice and level the playing field.
Reference:
Australia's emissions projections 2017. Table 7: Emissons by sector (Mt CO2-e). Australian Government. Department of the Environment and Energy. December 2017.
Biography

Dean Dalla Valle joined Pacific National in July 2017 with a wealth of experience gained during a 40-year career with BHP Billiton; earning him a reputation as one of their longest serving and most respected leaders.