ContiTech showcases suspension systems at Business on Rails 2011
Systems manufacturer for rail vehicles to present suspension solutions for primary and secondary suspension…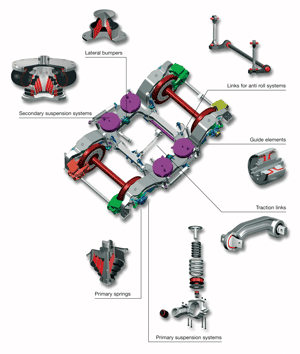 From November 8 to 11, 2011, in São Paulo, Brazil, ContiTech will be showcasing its products at Business on Rails 2011, the largest railway trade fair in Latin America. The manufacturer of suspension systems for rail vehicles will be exhibiting in the Red Pavilion in the Expo Center Norte (booth K11). ContiTech's presentation will focus on ultramodern suspension concepts for primary and secondary suspension. MEGI®-brand hydro springs, bushings and buffers will also be on show.
The company's unit ContiTech railway engineering is a key supplier for the metro trains used in Brazil's cities, including four of the metro lines operated by CPTM in São Paulo. "We ship the majority of our systems in kit form and have them constructed on site. For our customer CAF, for example, we are currently supplying air spring systems, and a similar application will follow for the Recife metro system," says Benoit Guidemann, key account manager for Railways Application in France and Spain. "Brazil – and indeed the whole of South America – is a huge market with lots of potential. We collaborate there with a number of major manufacturers, including Bombardier-Alstom and CAF."
As a development partner and manufacturer for original equipment, ContiTech Railway Engineering develops complete suspension concepts and system solutions for primary and secondary suspension systems. By using high quality materials and material combinations, the company is able to satisfy the most stringent requirements in terms of safety, comfort, speed and vehicle noise reduction while upping the economic efficiency of freight and passenger transport. The weight of a suspension system is also a crucial factor: ContiTech develops aluminum components that are up to 40% lighter than conventional steel parts, thereby contributing to the development of energy-efficient solutions.
ContiTech's broad sales network also means that rail vehicles operators receive rapid assistance. Whether in Brazil, the UK or China, ContiTech's service team can be on site wherever they need to be within just a short time to support operators and manufacturers alike. "We're probably the only ones in the rail vehicle suspension sector able to offer this kind of immediate help worldwide. We are able to do so thanks to our many service providers," notes Friedrich Hoppmann, head of the ContiTech Railway Engineering segment.