Network Rail awards telent national telecoms framework renewals contract
telent has been awarded a nationwide telecoms framework renewals contract by Network Rail covering all of its regions…

telent, the technology services company, has been awarded a nationwide telecoms framework renewals contract by Network Rail covering all of its regions.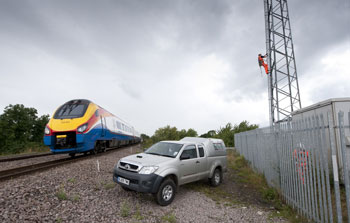 The new contract is for a period of three years with an option to extend for a further 2 years. Under the framework contract telent will provide the telecoms equipment and services necessary to renew Network Rail's operational railway communication networks and systems.
Steve Pears, Managing Director of telent's rail business is delighted that Network Rail has chosen to continue their relationship with the organisation. He said: 'The new framework contract builds on the excellent service we have provided to Network Rail over the last seven years, we're delighted that they have chosen to maintain our relationship.'
The new contract follows the previous awards to telent in 2005 for a five year framework contract for the densely populated South East region, and the award of an 18 month framework contract in 2010 to extend telent's coverage to include both the South East and Western Regions. These contracts saw the company install, commission and test a wide range of telecommunication equipment – from networks supporting signalling, to Customer Information Systems.
'We pride ourselves on our proven track record in delivering safe, reliable and cost-effective services and systems on time and to budget,' commented Mr Pears. 'As well as allowing us to continue to provide ongoing support to one of the largest organisations in the UK rail sector, we hope the new contract will provide us with the opportunity to continue to grow telent's reputation within the rail sector.'
Related organisations
Related people