World's largest solar bridge taking shape as Blackfriars installation reaches half way
Work to construct the largest solar panel array in London has reached half way…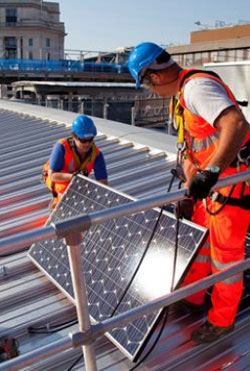 Work to construct the largest solar panel array in London reached half way today as the 2,200th solar panel was installed on the roof of Blackfriars station in central London.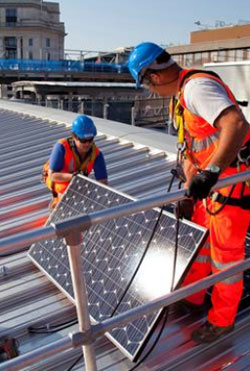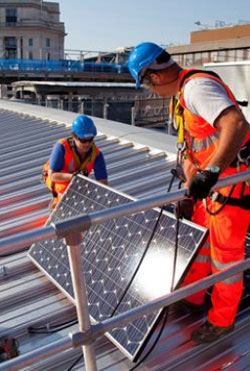 Network Rail is rebuilding the station on top of Blackfriars rail bridge to provide more space for passengers and longer, more frequent trains. The new station roof above the Victorian bridge will be home to 4,400 solar panels, which will generate up to 50% of the station's energy needs.
The solar, manufactured by Panasonic, designed and installed by Solarcentury, covers an area of 6,000 m2, making Blackfriars the largest solar bridge in the world. The panels are expected to generate 900,000 kWh of electricity every year, saving over 500 tonnes of CO2 annually.
Network Rail senior programme manager for Blackfriars, Paul Byrne, said: "We've rebuilt Blackfriars on a 125 year old rail bridge, creating a 21st century, solar-powered station on Victorian foundations. Blackfriars' iconic location spanning the River Thames makes it a showcase for the potential of solar power, and an important benchmark for Network Rail as we look to make best use of sustainable technology on the rail network.
"Blackfriars will become fully operational for passengers this month, with two new entrances, four new platforms and a new London Underground station in use. We'll complete work on the bridge, including the installation of solar panels, later in the year."
Frans van den Heuvel CEO of Solarcentury said: "Blackfriars will be one of the World's great solar power installations. Architecturally challenging, the project demonstrates just what is possible with this versatile technology in dense urban areas. We've been working amongst one of the most complex build programmes in the country, at height, over water and live train lines. It's a great feeling to be half way there."
Shigeki Komatsu, director, Panasonic Eco Solution Energy Management (Europe Solar Business Division) said: "Our HIT® solar panels will soon help provide clean, emission free energy to an important London transport hub. Whilst commuters at Blackfriars station might not notice the solar panels, the solar will play an important role in their travel experience every day. We hope this will have a real impact on the way people see green energy, proving it as reliable, unobtrusive and the energy of today."
Bakia Mbianyor, First Capital Connect's Sustainability Manager, said: "In terms of CO2 emissions, rail travel is already the most sustainable form of mass transport with 0.1Kg of CO2 per passenger mile. The solar panels at Blackfriars will now allow us to reduce our carbon footprint still further, at one of our most important stations in central London."
Over the past four years, Blackfriars station has been rebuilt on top of a Victorian rail bridge. The bridge was stripped to its foundations and reconstructed wider and stronger to house platforms, a 250m-long roof and the world's largest bridge-based solar array. The work forms part of a wider upgrade of the Thameslink route, running from Bedford to Brighton through central London. First Capital Connect customers on this route will benefit from longer trains and more frequent services, with a metro-style train every 2.5 minutes through central London during peak times.
Related organisations
Related people