Network Rail launches new ultrasonic test unit
New test unit uses ground penetrating radar and ultrasonics to keep an electronic eye on the track…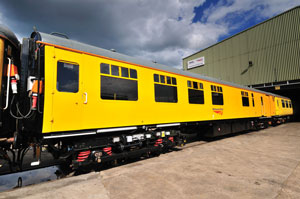 Network Rail's new ultrasonic test train - UTU1 - complete with ground penetrating radar.
Network Rail has launched its fourth ultrasonic rail testing train into service, complete with ground penetrating radar, ultrasonics and rail profile laser scanner.
The company's test trains use ultrasonic equipment – the same technology used in medical situations – to detect minute flaws in the track.
With the original three units being used at their full capacity to keep the track compliant, the addition of a fourth means one can be taken out of use for servicing, making the service more resilient and flexible.
Network Rail's director of engineering Steve Yianni said: "Network Rail's number one priority is safety and the addition of this unit to our fleet means we can measure the safety and quality of our railway to much higher standards.
"It also means we can keep our test trains running more reliably and at more times across the country. With this we can improve the quality of the ride for all our passengers, and make sure they reach their destination in complete safety."
The new train, or UTU 1 as it is known, has more accurate positioning systems and an improved ability to test the track. It can also be used at a higher speed, an important part of Network Rail's plans for maintaining the network.
Most testing currently takes place at night at speeds of up to 30 mph. With further development and UTU-1, it is hoped to be able to test the track at 45mph.
The £700,000 UTU1's systems can analyse many different aspects of the permanent way:
Its two separate ground penetrating radar units can detect irregularities in the ballast and formation up to two metres deep, including voids;
The ultrasonic test equipment on board can give early warning of any problems that could later occur with the track;
The UTU's rail profile scanner uses laser technology to compare the state of the railhead with a pre-programmed template to judge if the track is becoming worn out of shape, and in need of grinding.
The Network Rail UTU trains do not replace traditional track walks by permanent way staff – although they do reduce the need for them. Instead, they direct the focus of track walks to areas needing inspection, saving time and money, and increasing the safety of the network.
Related organisations
Related people