International rail consultancy is launched
Network Rail Consulting will harness the vast range of skills and experience available within our organisation to demonstrate British expertise overseas…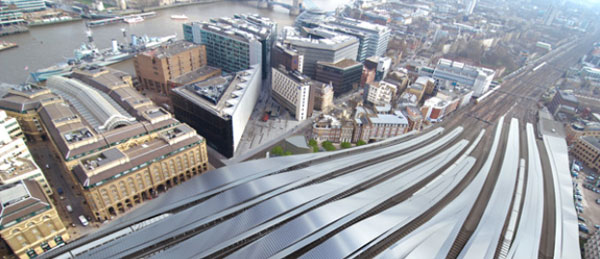 CGI of the proposed London Bridge station
Network Rail Consulting will harness the vast range of skills and experience available within our organisation to demonstrate British expertise overseas and be an international ambassador for Britain's rail industry. It will also help channel innovation back into our core business, helping deliver a better value railway for Britain.
The move is part of a wider reform agenda which has seen us move towards a devolved group structure to drive further efficiencies and demonstrate value through market competition.
A world-class British infrastructure group
David Higgins, our chief executive, said: "Our vision is to be a world-class independent British-based infrastructure group that is internationally respected for providing rail services and solutions that deliver outstanding value, responsibly.
"Since the privatisation of the rail industry, Britain has not had a national rail champion operating in the international market. Network Rail has the depth and breadth of rail experience and knowledge to promote British expertise overseas and become a valuable international ambassador for our rail industry and for UK plc.
"By proving ourselves in the international market, Network Rail will be able to demonstrate that it is a modern, efficient and competitive company."
Network Rail Consulting
Network Rail Consulting has been created as a subsidiary of Network Rail. It will operate outside the UK, offering consultancy services across the full spectrum of Network Rail's expertise:
Advisory: Re-structuring, privatisation, institutional, policy development and reviews, audits, procurement, bid support, rail operations including retail optimisation
Strategic planning: Transport master plans, market assessments, demand forecasting, project appraisal and route utilisation strategies
Asset management: Developing conceptual asset management frameworks, route asset management plans
Operations and maintenance: Practical operating advice, timetabling and simulation modelling, maintenance regimes and outsourced operate and maintain contracts
Capital projects: Outputs definition, pre-feasibility, feasibility, project and programme management
Strategic alliances with CH2M HILL and Atkins
Network Rail Consulting intends to form strategic alliances with two major international consultancies to pursue opportunities in its target markets, working with CH2M HILL and Atkins. The geographic focus of Network Rail Consulting centres on those countries, such as the USA and India, with large, aging rail infrastructure in need of modernisation – an area in which we have vast experience.
There will also be opportunities to team with other consultants elsewhere. Markets where Network Rail Consulting would be able to carry out work as sub-consultant to alliance partners include Brazil, northern Europe, the Middle East, the Far East and Australia.
Nigel Ash, managing director of Network Rail Consulting, said: "Network Rail has internationally-valuable experience in developing innovative and pioneering approaches in asset management, and the successful delivery of large and complex capital projects, such as the Kings Cross redevelopment and the first stage of Thameslink.
"In addition, we look after one of the most heavily used railways in the world, on largely Victorian infrastructure. Despite these challenges, our railway carries more people on more trains than ever before, with improving levels of punctuality.
"We believe we have much to offer international clients and look forward to working alongside our partners to demonstrate the best of British engineering and ingenuity overseas."
CH2M HILL
Mark Thurston, European transport business group director at CH2M HILL, said: "This collaboration brings together CH2M HILL's expertise in programme management and delivery of some of the world's most complex projects with Network Rail's extensive knowledge of developing and managing railway infrastructure, which offers clients an unrivalled partnership to deliver innovative and practical solutions for the asset management and enhancement of the railways in North America."
Employee owned, CH2M HILL is one of the world's leading programme management, design, design build, construction and operations consulting firms for public and private sector clients.
Atkins
Douglas McCormick, managing director for Atkins' UK rail division, said: "We have worked on countless projects with Network Rail to improve Britain's railway and now we have an opportunity to take these experiences and the technical excellence of both organisations to offer an enhanced service to overseas markets."
Atkins is one of the world's leading engineering and design consultancies.
Related organisations
Related people