Plans for faster and more frequent rail services in the North
The new Ordsall Chord is a scheme to connect Manchester's Piccadilly, Oxford Road and Victoria stations…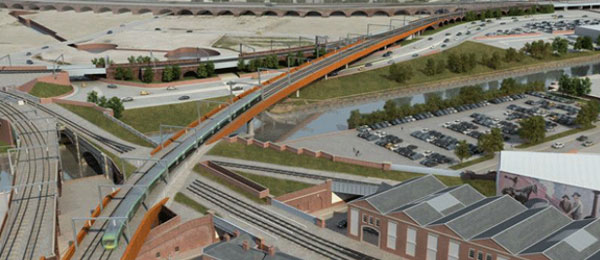 Computer generated image of the proposed Ordsall Chord
The new Ordsall Chord is a scheme to connect Manchester's Piccadilly, Oxford Road and Victoria stations, and is the first part of the Northern Hub programme to help ease a rail bottleneck to the south of Piccadilly station and allow more trains to travel through Manchester Victoria.
More trains, more seats, better services
The scheme will help free up space on the railway to deliver faster, more frequent services, including:
Two new fast trains per hour between Manchester Victoria and Liverpool
Six fast trains, instead of four, an hour between Leeds and Manchester
Faster journeys between Manchester, Leeds and Liverpool
A new direct service through Manchester city centre to Manchester Airport
Faster journey times to Hull, Newcastle and the North East
Dyan Crowther, our route managing director for London North Western said: "Britain relies on rail and with demand for rail travel increasing it's essential we invest in the railway to provide a better service for passengers with more trains, additional seats and fewer delays."
Ordsall Chord consultation
Two potential bridge options have been unveiled for consultation, including a bow string railway arch and an alternative flat bridge. Public feedback will be passed onto to the design team and used to inform the plans.
Network Rail first released the plans for consultation last year, and feedback showed around 84 per cent of respondents felt is was important to connect Manchester's key railway stations. Network Rail have now developed more detailed plans and is asking for feedback before submitting an application to the Planning Inspectorate next summer.
If the scheme is approved, Network Rail will start work in late 2014 and expect to complete in late 2015.
View the plans and read more about the Northern Hub project.
Related organisations
Related people