HaCon's TPS sets the course in Norway
Jernbaneverket (JBV) have recently begun to use HaCon's Train Planning System TPS to plan the entire railway network of Norway…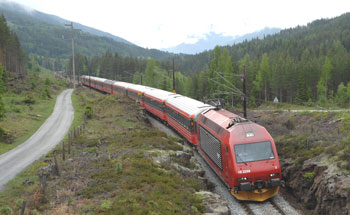 JBV now creates and manages Norway's railway timetables with HaCon's Train Planning System TPS. (Photo: Jernbaneverket)
The route planners at the Norwegian national railway authority Jernbaneverket (JBV) have recently begun to use HaCon's Train Planning System TPS to plan the entire railway network of Norway, including all schedules and route inquiries for passenger and freight traffic. For the first time at JBV, the new European TSI TAF communication standard for the route inquiry and order process is being used. TPS also makes it possible to manage concrete trackwork activities via the JBV web portal – another new process improvement designed to increase efficiency in the European railway segment.
Thanks to the innovative TPS features, the JBV employees now work with the latest software to create and manage railway timetables. New features for the Norwegian National Railway include the short-term rescheduling for construction areas and the daily update and distribution of train graphs to everyone involved in the process. Another highlight is the TPS FindSlot Service that recognizes route conflicts and automatically finds, visualizes and uses the best possible solutions as selected by the user for the trains affected.
Norway has some 4,100 km of railway network which includes many single-track sections as well as some heavily frequented freight routes. The annual timetable encompasses approx. 5,000 routes and another approx. 30,000 routes that are included short-term in the offline timetable. HaCon developed the TPS software further for JBV, thus taking the special requirements in Norway into account. "As a result, our route planners find optimum support here, particularly for managing trains on single-track sections," explains Hans Erik Wiig, Department Manager at Jernbaneverket. "We have made very positive experiences with HaCon and the TPS software will significantly improve our work and business processes."
TPS was first put into operation by the Danish National Railways (DSB) in 2002. Since then, the HaCon system has become increasingly popular all across Europe: in addition to Jernbaneverket, the British railway infrastructure operator Network Rail, Banedanmark, Réseau Ferré de France (RFF), the SNCF and TP Ferro are using TPS for their train planning.