UK Rail Industry must stay on 'track' with training say Thales Training & Consultancy research
Investment in hard skills key to closing the knowledge gap for rail workers…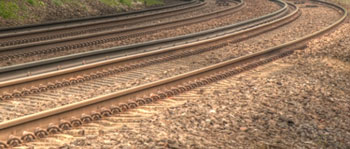 A research study conducted by Thales Training & Consultancy, Thales UK's integrated training services provider, has revealed that 77% of rail industry professionals are concerned about a skills gap within their organisation. This comes against a backdrop of 85% claiming to have either increased or maintained investment in training over the last 12 months.
These findings indicate training budgets need to be focused on technical and management skills. In addition, with UCAS figures revealing that over 127,000 applications to study engineering were received in January 2013, an increase of 8.4% on 2012[1], it is important the industry predicts and plans for future training needs as new engineers enter the industry.
Looking specifically at where the industry perceives the skills gaps:
72% believe the development of hard/technical skills – those which enable an individual to fulfil their day-to-day role – is suffering the most. This is a risk for the rail sector as many of the hard skills are linked to compliance issues, opening organisations up to audit failures, fines and litigation
Soft skills, which refer to how people achieve goals through communication and management, are not a concern (28%). This conforms with a belief within the sector that soft skills will remain a key focus over the next 10 years
Looking to the future, 46% of respondents believe that the industry should focus on developing technical skills. As part of the UK railways upgrade, the introduction of new technology will be a training priority as the engineering community adapts to new ways of working
Leadership skills (28%) are also key to the future to ensure the UK rail industry stays at the forefront of innovation. Inspirational leadership is key to driving innovation and this figure could be seen as low.
"The UK has historically been at the forefront of rail innovation and therefore it's vital for those working in the industry to be armed with the right skills to do their job," says Rachel Kay, Business Development Director, Thales Training & Consultancy. "It's great to see that despite the turbulent economic climate of recent times, the rail industry has understood the importance of developing its people and has continued to invest in development, ensuring that managers are fully equipped to meet the changes in technology and lead the next upgrade of the rail infrastructure in the UK. However, for training to be effective it is critical that it is mapped against organisational business objectives with clear measures of success to avoid the pitfalls of the skills gap."
Thales Training & Consultancy's research was welcomed by the National Skills Academy for Railway Engineering (NSARE), which champions tackling current and future skills needs within the railway engineering industry. Bill Alexander, Head of Training & Skills at NSARE, concluded, "These findings really replicate what we've been seeing in the rail industry in terms of the depth of the current skills shortage and the emerging skills needed. As an industry we have to look at how we can attract sufficient numbers of people with the right skills, both hard and soft, into the industry to meet the challenges of the investment programmes on the mainline railway and London Underground. We need to consider recruitment planning and adopting a long-term strategy to meet the industry's future needs. There is a massive amount of work to be done but we're confident we can address the skills gap."