Overcrowded trains to get red (and amber and green) light
Rail companies asked to publish train-by-train crowding information in a 'traffic light' system, explaining which services are busiest…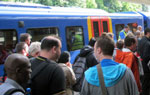 Rail companies asked to publish train-by-train crowding information in a 'traffic light' system, explaining which services are busiest.
All rail companies have been told to do more to tell their passengers how crowded their train services really are so they can make an informed choice over when they travel.
Rail Minister Norman Baker has written to every train operator urging them to publish train by train information, in a simple traffic light system, which lets passengers know which services are the most crowded.
One train company, London Midland, has already been making this information available to their customers via posters at stations and now the Rail Minister wants to see this best practice being adopted across England and Wales.
Rail Minister Norman Baker said:
"Publication of train-by-train crowding information is, in the short term, an important tool for allowing passengers to make informed choices about which trains to travel on, and convincing those passengers who can change their travel patterns to do so.
"The coalition government is delivering real benefits to passengers. We have ruled out making further increases to fares at the very busiest times and we are investing record amounts in improvements to the network, but where it is simply not possible to increase services, encouraging passengers to change their travel patterns is the best way to tackle a crowded network.
"The innovative approach taken by London Midland is helping to smooth the peaks in demand for their services and is making the most of the investment going into rail services in their area. I am keen to see the rail industry working together to follow London Midland's example."
Several train companies, including Greater Anglia, are already providing more detailed information for passengers but the approach London Midland has taken to keep their passengers informed is being held up as an example of best practice.
For stations on routes into Birmingham and London the company publishes details of each of their services at the busiest times and colour codes them – red, amber or green – depending on how crowded they are. This gives passengers the choice to alter their travel plans to catch a less crowded train.
The Rail Minister is keen for this approach to be rolled out across the industry at stations and online as soon as possible.
As part of its commitment to increasing transparency the Department for Transport is now publishing statistics showing crowding in a number of major cities in England and Wales, and "top 10" lists of the country's most overcrowded train services.
Related organisations
Related people