Taking stock of Thameslink: captive finance plays a key role in Siemens' record transport deal
Signing the Thameslink deal is a landmark for Siemens UK…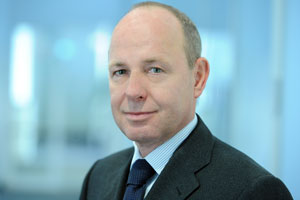 Johannes Schmidt, CEO of Project & Structured Finance Infrastructure Cities & Industry at Siemens Financial Services (SFS)
Signing the Thameslink deal is a landmark for Siemens UK, but also a milestone for transport project financing in the post crisis environment, says Johannes Schmidt, CEO of Project & Structured Finance Infrastructure Cities & Industry at Siemens Financial Services (SFS).
The Thameslink deal is Siemens' largest UK infrastructure project to date and represents a landmark in the company's 170-year history in the UK, as well as a firm indication of the benefits that in-house finance solutions can provide in project finance. Reaching financial close is also a good moment to reflect on the financing of infrastructure projects more generally. Including the Thameslink rolling stock order, Siemens now has close to 3,000 rail vehicles in supply throughout the UK, positioning the company as a market leader in the UK rail sector.
The Thameslink order is a key element in the UK government's £6 billion (€7 billion) Thameslink rail network upgrade. Under the terms of the agreement, Siemens Financial Services (SFS), through its subsidiary Siemens Project Ventures GmbH (SPV), entered into a jointly-owned consortium partnership – Cross London Trains (XLT) – alongside equal equity investors Innisfree Ltd and 3i Infrastructure Plc. The award contracts for the 'design, production, commissioning, maintenance, financing and making available of the rolling stock' of 1140 Desiro City EMU train carriages to be purchased from Siemens Plc and to lease these trains to the Operator of the Thameslink rail franchise. The contract also includes the 'design, construction, commissioning, financing and making available' of two new Thameslink rolling stock maintenance depots at Hornsey in North London and Three Bridges in West Sussex, both of which are financed through an innovative receivables purchase agreement between XLT and Siemens UK.
Value-for-money
Throughout the procurement process it was clear that securing substantial value-for-money was one of the key factors in the Department for Transport's decision making criteria. Therefore, a critical aspect of the Thameslink deal was, of course, getting the financing structure right. Indeed, the solid financing package put together by SFS was an important factor in demonstrating to the Department for Transport (DfT) that the deal represents the best value-for-money for the UK taxpayer while also continuing to remain attractive for other private investors.
In this case, a hybrid Private Finance Initiative/Public Private Partnership (PFI/PPP) and lease arrangement for both the rolling stock and the two depots was put in place. The Thameslink rolling stock contract, supported by a UK Government section 54 undertaking that encourages franchise railway investment, has been financed with a debt facility arranged through a syndicated loan group consisting of 19 banks with SMBC, Lloyds, KfW and BTMU acting as mandated lead arrangers (MLAs), alongside a debt facility from the European Investment Bank. The XLT consortium was advised by Barclays Capital throughout the financing arrangements. Meanwhile, the two depots, also supported by a UK Government section 54 undertaking, have both been financed exclusively by Siemens Financial Services.
Certainly, the long negotiation timeframe has meant that SFS's Project & Structured Finance Infrastructure Cities & Industry team, together with 3i and Innisfree, have been able to structure the financing with a highly accurate and appropriate level of risk transfer to the private sector, leveraging SFS' expertise in early-stage project risk assessment. This helped enable XLT to raise substantial levels of debt financing, and thereby achieve best value for money for the DfT.
In-house project finance solutions
As an in-house captive financier, SFS's role is to support, and as required, to lead the financing of deals involving high levels of Siemens content. In the case of the Thameslink contract, SFS played an integral role in advising, structuring and negotiating the financing terms of the deal, as well as acting as a 'catalyst' in order to build stakeholder and partner confidence in this large-scale transport project. Certainly, SFS's own strong investment encouraged commitments from other investors on both the debt and equity sides of the transaction, helping to keep the deal moving along the right track.
As a leading infrastructure and engineering multinational, Thameslink is also a clear statement of intent regarding the SFS's goal of providing smart financial solutions to the largest infrastructure challenges that are shaping tomorrow's global economy. Ultimately, the deal further strengthens Siemens' overall global infrastructure portfolio, complementing its strong track record in healthcare, energy and industrial infrastructure with a leading role in the UK rail sector.
In the case of the Thameslink deal, SFS's involvement not only helped to galvanise stakeholder confidence but also build critical momentum – keeping the project on track throughout the lengthy contingency negotiations. Finally, SFS also brought a full-suite of financing solutions to the table: including funding both debt and equity tranches for the rolling stock supply and maintenance, and the depot construction and operation. Whether acting in a specialist advisory, structuring or relationship building capacity, SFS was involved throughout every step of financing this major transport project. Given the range of stakeholders involved, the length of the negotiation period and the requirement to cover all possible eventualities from both a practical and financial point of view, SFS's involvement was vital in order to build confidence and reach financial close on Siemens Plc (UK) largest ever order. In this respect, Thameslink is a leading example of what in-house captive project financing can help to achieve in today's transport infrastructure sector.