Construction begins on landmark timber roof above Canary Wharf Crossrail station
Fit-out of 185 metre long ticket hall nears completion as platform construction begins at Crossrail's most-advanced station construction site…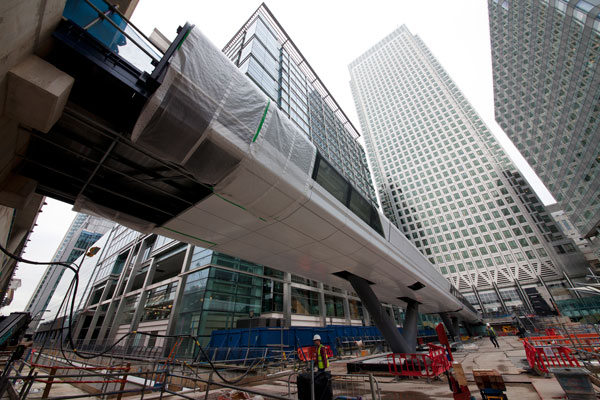 Canary Wharf Crossrail Station September 2013
Canary Wharf Group has begun construction of the striking Foster + Partners-designed timber lattice roof above Canary Wharf Crossrail station.
The Group's construction arm, Canary Wharf Contractors Limited, has completed the structure of its four-floor, 115,000 square feet retail development above the station, enabling work on the roof to get underway. Canary Wharf Group aims to complete and open the retail space and Gillespies-designed roof garden in 2015.
Architectural fit-out of the 185 metre long ticket hall is nearing completion, with eight 40 metre-long escalators, four lifts, flooring and wall cladding all in place. Canary Wharf Group has also started constructing the 240 metre long passenger platforms, 28 metres below the surface of North Dock at Canary Wharf, following the exit of tunnel boring machines 'Elizabeth' and 'Victoria' over the summer.
Work has also largely been completed on the covered elevated walkway between North Colonnade at Canary Wharf and the station, across Adams Place. The station will also provide much enhanced pedestrian and vehicle access between Canary Wharf and Poplar to the north – encouraging the local residential community to come into Canary Wharf to use the roof garden and amenities.
Cliff Bryant, Executive Director of Canary Wharf Contractors Limited, said: "We hope that because of the sheer scale, roof design and retail amenities, Londoners will come to regard the Crossrail station at Canary Wharf as one of the capital's most impressive. The team have done a great job getting the engineering and construction to this point. Putting the Foster-designed roof on top will be the icing on the cake. It has been a challenging project, especially building in water and in such close proximity to the world-class businesses headquartered nearby."
Andrew Wolstenholme, Crossrail's Chief Executive said: "Construction of the new Crossrail station at Canary Wharf continues to make significant progress. Crossrail will dramatically increase the capacity and resilience of transport services to and from Canary Wharf and the surrounding area, helping underpin further development and investment in this key business district."
Canary Wharf Group began work on Canary Wharf Crossrail station in May 2009 by creating a 250 metre long and 30 metre wide watertight dam in the waters of North Dock using the innovative 'silent' piling method. The station box was then built 'top down', 28 metres below the water surface to create the ticket hall and platform levels.
Journey times to many destinations across London will be reduced with Crossrail. From Canary Wharf, it will take just 6 minutes to travel to Liverpool Street, 8 minutes to Farringdon and 39 minutes to Heathrow. The Crossrail service at Canary Wharf will be 12 trains per hour in each direction during the peak. Crossrail services will commence in 2018.