Birley Manufacturing presents innovative train toilet module at Innotrans
Birley Manufacturing launches its new innovative universally accessible toilet (UAT) module at Innotrans 2014…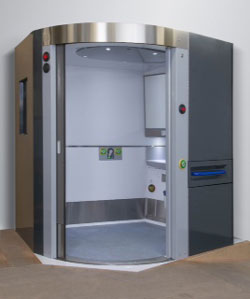 The Birley UAT – Universally Accessible Toilet Unit
Birley Manufacturing launches its new innovative universally accessible toilet (UAT) module at Innotrans 2014.
The UAT has been designed to provide excellent structural integrity in a 2 piece modular construction which is fully compliant to the latest issue of Persons with Reduced Mobility Technical Specification for Interoperability Regulations (PRM TSI) and requirements to Rail Group Standards (RGS). The module is pre-assembled and fully tested which significantly reduces installation times into rolling stock. The unit will offer access to people of reduced mobility as well as the able-bodied. 
The key benefit of the Birley UAT module is that the sealed one piece floor moulding prevents the leakage of liquids and so reduces the risk of under floor corrosion.  The unit contains a range of attractive and useful features including LED lighting, a hand cleansing system with hygienic infra-red activation, a large mirror and baby changing unit.  The modern, fresh interior can be adapted to match the style and colour way of any vehicle.
All the main equipment has been selected for its proven reliability, high quality and advanced technology to support reduced servicing and maintainability of the unit.
Sheffield based Birley Manufacturing has been a specialist in train interior refurbishments for over two decades and is the UK's largest supplier of under-frame skirts and egress internal sliding doors.  Visit us in Hall 6.2, stand 315 to view the UAT and meet our team.