Atkins' CEO Uwe Krueger: urbanisation, technology and sustainability will drive future rail market
Atkins' chief executive officer, Prof Dr Uwe Krueger, delivered a speech at InnoTrans, the world's largest trade fair focused on the rail transport industry, in Berlin…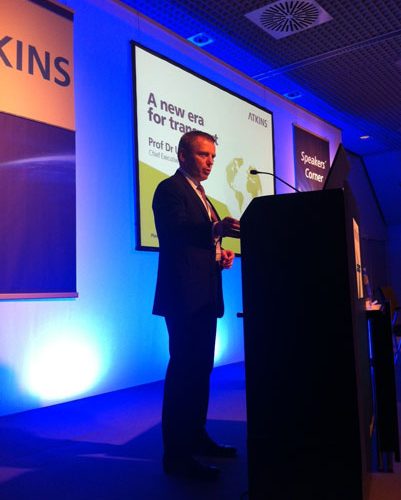 Atkins' chief executive officer, Prof Dr Uwe Krueger
Atkins' chief executive officer, Prof Dr Uwe Krueger, delivered a speech at InnoTrans, the world's largest trade fair focused on the rail transport industry, in Berlin yesterday (24 September 2014), where he described how the rail market in coming years will be driven by three main factors – urbanisation, technology and sustainability.
Urbanisation
There are many challenges associated with urbanisation, and as the global population is expected to grow from seven to nine billion by 2050, pressure will be put on our existing and future infrastructure making 'future-proofing' critical to withstand future risks.
Uwe said: "'Future proofing' means a truly holistic approach. It obliges us to think ahead and design infrastructure that will still be fit for purpose in 30 or 50 years from now."
In regards to the rail sector, high speed rail will present a big opportunity as urbanisation will require better connectivity between urban centres and become ever more critical for economic growth. Uwe mentioned how $900 billion in global high speed rail investment is predicted between 2010 and 2020.
Technology
The complex problems of urbanisation will require smart solutions, and this is where the constantly evolving world of technology comes in.
"Technology will enable the rail sector to gear up to the next wave of economic growth. We will need a smart railway to deliver the ambitions of our increasingly smart cities," Uwe described.
The introduction of the European Rail Traffic Management System (ERTMS) for example, is facilitating greater interoperability and will boost cross-border services. Atkins is currently helping to deliver Banedanmark's ERTMS project which includes the complete re-signalling of the country. In future this system will enable transport networks to connect, bringing together high-speed, metro and light rail with other forms of travel.
Sustainability
As urbanisation increases and technology progresses, so does the pressure on both environmental and economic sustainability. Uwe described how the rail industry has a pivotal role to play in delivering environmentally-friendly and economically sustainable transport systems around the world.
"The rail industry can be proud that it is responsible for only seven per cent of global CO2 emissions in the transport sector, but the industry must not rest on its laurels. Cities occupy only two per cent of the earth's land yet account for 75 per cent of global carbon emissions and between 60-80 per cent of energy use. Therefore, rail must continue to address issues such as how to reduce the carbon footprint or decreasing the land-take needed for new and existing lines," he concluded.
An edited version of Uwe's speech is available on our thought leadership app, Angles, here.
Related organisations
Related people