New state-of-the-art InterCity Express train to arrive in the UK in March
The first of Britain's new generation of high-tech passenger trains has started its journey from Japan to the UK…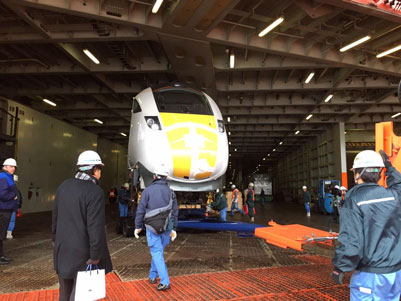 The first Class 800 train being loaded to a container at Kobe port, Japan. Image: DfT
The first of Britain's new generation of high-tech passenger trains has started its journey from Japan to the UK.
The Class 800 train, specially designed and built by Hitachi for the government's £5.7 billion InterCity Express Programme (IEP), will revolutionise rail travel and play a vital role in the country's long term economic future.
The trains will provide significant benefits to passengers on the East Coast and Great Western routes, with more seats on each train, reduced journey times and improved reliability.
The first IEP Class 800 train was built in Hitachi's Kasado works in Japan and has today (22 January) set sail for Southampton, UK. Once Hitachi's new purpose-built facility at Newton Aycliffe, County Durham, has opened, the majority of the fleet will be manufactured in the UK, creating hundreds of jobs.
Rail Minister Claire Perry said:
"This is a great moment in the delivery of a new class of state-of-the-art trains that the UK needs and deserves. I look forward to seeing the first train as it arrives here and even more so when they are being manufactured in the UK.
"We are investing record amounts building a world-class railway that provides more seats, more services and better journeys for passengers. The new InterCity Express trains tick all the right boxes, and will revolutionise train travel to some of the UK's biggest cities.
"The IEP is also helping to secure long-term economic growth by creating hundreds of jobs and apprenticeships at Hitachi's new factory in County Durham, as well as thousands more jobs across the UK supply chain."
A total of 866 Class 800 carriages will be manufactured at Newton Aycliffe, creating 730 jobs locally.
After its arrival in the UK, the train will be used to run a host of tests to get the fleet ready for service as early as 2017. The new IEP trains will bring faster services and additional capacity between London and major UK cities including Reading, Bristol, Cardiff and Swansea along the Great Western Main Line, and Leeds, Newcastle and Edinburgh on the East Coast Main Line.
The new train is expected to arrive at Southampton in March.
Related organisations
Related people