Eurostar reports continuing growth in passenger numbers and sales revenues in 2014
Eurostar, the high-speed rail service between the UK and mainland Europe, has reported continuing growth in passenger numbers and sales revenues in 2014, as the business celebrated its 20th anniversary and unveiled its new e320 trains…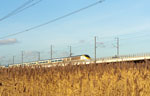 Eurostar, the high-speed rail service between the UK and mainland Europe, has reported continuing growth in passenger numbers and sales revenues in 2014, as the business celebrated its 20th anniversary and unveiled its new e320 trains.
In 2014, passenger numbers rose by 3% to 10.4 million (2013: 10.1 million) bringing the total number of passengers travelling on Eurostar since the start of services in 1994 to over 150 million. 2014 sales revenues increased by 1% to £867 million (2013: £857 million).1 
This performance was underpinned, in particular, by the strong recovery in the UK economy which also led to an increase in business travel bookings throughout the year. In 2014 the number of Eurostar business travellers increased by 4% compared with 2013.
The business also achieved year-on-year growth in underlying profitability with like-for-like operating profit up 2% in 2014 to £55.0 million (2013: £54.0 million). Following the company's decision in November 2014 to purchase seven additional e320s to meet growing demand and provide services to new destinations, the reported operating profit for 2014 reflects additional non-cash charges against the value of the existing fleet.2
New e320 trains on schedule to enter service at the end of 2015
To mark its 20th anniversary in 2014, Eurostar unveiled its state-of-the-art new e320 train at St Pancras International station. With the e320 due to enter commercial service at the end of 2015, passengers can look forward to an unparalleled level of style, comfort and service.
In total, Eurostar is investing over £1 billion3 in its fleet and its service and will be introducing 17 new trains over the next three years. Carrying 900 passengers, these Eurostar e320 trains will boost capacity per train by 20% and will be capable of a speed of 320km/h (200mph). 
With the interiors and external livery designed by Pininfarina, the world famous Italian design house renowned for its iconic car designs, the design boasts a range of innovative features which will deliver an outstanding travel experience for customers.
Nicolas Petrovic, Chief Executive of Eurostar, said: "2014 was a pivotal year for our business as we celebrated our 20th anniversary and unveiled our new fleet. Our new e320 trains are now in the final months of testing and on schedule to come into commercial service at the end of this year.  As we introduce new trains, upgrade our stations and invest in our service, passengers can look forward to a complete transformation of their travel experience."
Strong sales of tickets for new service direct to the South of France
To meet the growing demand for high-speed rail services beyond its traditional destinations, on 1 May 2015, Eurostar is launching a new all year-round direct service to the South of France stopping in Lyon, Avignon and Marseille.
Since tickets went on sale in mid-December, Eurostar has seen a strong response as passengers are drawn by the wide-ranging gastronomic and cultural attractions of the region.  For UK travellers who have a long standing love affair with the South of France, the new service will revolutionise the journey, providing a leisurely, comfortable trip through the French countryside.
Nicolas Petrovic continued: "Ticket sales for our new South of France service have got off to a cracking start, demonstrating, once again, the enduring popularity of the region and the growing appetite among passengers for choosing high speed rail over plane for travel further into mainland Europe."
References:
Sales revenues for 2014 were impacted by movements in exchange rates during the period.  At constant exchange rates sales revenues increased by 4%.
The reported figures for 2014 are preliminary, unaudited results.
In 2010 Eurostar announced a £700 million investment in its fleet with £600 million funding the purchase of 10 new trains and £100 million invested in the refurbishment of its existing fleet. In November 2014, the business announced its decision to place an order for an additional 7 e320 trains bringing the overall investment in its fleet to over £1 billion.