Hitachi pre-series Class 800 train arrives in the UK
Rail Minister Claire Perry MP has today welcomed the arrival of the first Hitachi pre-series Class 800 train for the Intercity Express Programme (IEP) at the Port of Southampton. Today's delivery is the first five-car pre-series train to be shipped to the UK from Japan, with 110 trains for the £5.7bn Department for Transport scheme being […]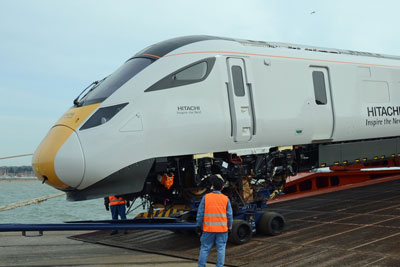 Rail Minister Claire Perry MP has today welcomed the arrival of the first Hitachi pre-series Class 800 train for the Intercity Express Programme (IEP) at the Port of Southampton.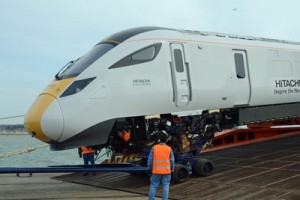 Today's delivery is the first five-car pre-series train to be shipped to the UK from Japan, with 110 trains for the £5.7bn Department for Transport scheme being built at the Hitachi Rail Vehicle Manufacturing Facility in Newton Aycliffe, County Durham.
The programme is part of a project to replace the Intercity 125 and Intercity 225 fleets on the East Coast and Great Western Main Lines with new high-speed trains. Hitachi Rail Europe has signed a contract to provide the design, build, finance and maintenance of rolling stock, over a 27.5 year period.
Rail Minister Claire Perry commented on today's delivery: "It is hugely exciting to witness the arrival of the first state-of-the-art IEP train on British soil. These trains will transform rail travel for passengers travelling between many of the great towns and cities of England, Scotland and Wales; provide a massive jobs boost for Britain and deliver billions of pounds of benefits for our economy.
"We are investing record amounts building a world-class railway that provides more seats, more services and better journeys. IEP trains are a crucial part of this and it is fantastic that we are on track for the new fleet to enter service on schedule.
"The IEP is also helping to secure long-term economic growth by creating hundreds of jobs and apprenticeships at Hitachi's new factory in County Durham, as well as thousands more jobs across the UK supply chain."
Andy Barr, Chief Operating Officer, Hitachi Rail Europe, said: "The arrival of the first train here in the UK is a major achievement for everybody involved in building this train – our colleagues in Japan, our UK suppliers and also the team from Newton Aycliffe, who worked on this train in Japan to hone their train-building skills. Today marks a new departure in the Intercity Express Programme for Hitachi Rail Europe, as we enter the test phase and build up to the opening of our Rail Vehicle Manufacturing Facility in the autumn of this year."
The latest addition to the Intercity Express Programme (IEP) left Japan in January. It has been built with the help of almost 30 UK-based suppliers and many more across the rest of Europe.
The punctual arrival of this pre-series train marks the completion of yet another successful milestone in the project.
Great Western Main Line will see the introduction of a new train service from 2017 and East Coast Main Line from 2018. The final delivery of all trains for the Great Western and East Coast Main Lines will be completed by 2020.