ABB Traction: From the Alps to Scandinavia
With more than 1,000 traction systems sold in the Nordic region over the last eight years, ABB Traction considers the region to be one of its key markets…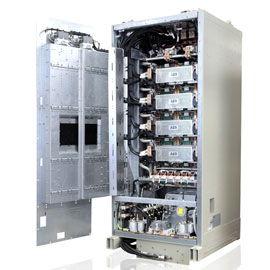 With more than 1,000 traction systems sold in the Nordic region over the last eight years, ABB Traction considers the region to be one of its key markets. In the segment of traction systems for Electrical Multiple Units, ABB can be considered as the local market leader. Furthemore, with recent orders for high-speed trains (SJ X2000) and light-rail vehicles (Århus), the company are also on the way to take on a leading position in these segments.
ABB Traction's success in the Nordic countries is no coincidence. To be successful in any market, the first condition is to have the right product portfolio for that specific market. The Nordic market is one of the most demanding in terms of best performance under harsh weather conditions, ecological aspects, and comfort requirements. These requirements can be found in the highly diverse Swiss market where ABB Traction has a leading position in all rail segments. With the Alps as a test-ground to introduce innovative solutions and optimise systems, Switzerland can perfectly simulate harsh Nordic conditions. Crossing the Alps means to climb steep grades up to 2,250m-above sea level – arriving 45 minutes later in the lowlands of Tirano (Italy); in one ride, systems are tested under extreme and changing conditions – from alpine winter to a Mediterranean climate in less than one hour. This experience and know-how is the base for the development of compatible traction solutions for the Nordic countries.
The ABB group traditionally has a strong base in the Nordic countries with more than 17,000 employees in the region, enabling ABB to offer local service and support – reflecting the group's long-term strategy and commitment to support their customers along the entire lifecycle of their fleet.
Thanks to their strong partners and advanced ABB technology designed and tested for the requirements of the Nordic region, ABB has assumed a key role in the Nordic traction market within only a few years.