Data-driven maintenance: A major leap in rail fleet maintenance
VR FleetCare and EKE-Electronics are working on a joint product development project to find a solution that provides data which can predict the maintenance requirement of bogies by using sensor technology and a smart combination of cloud and edge computing.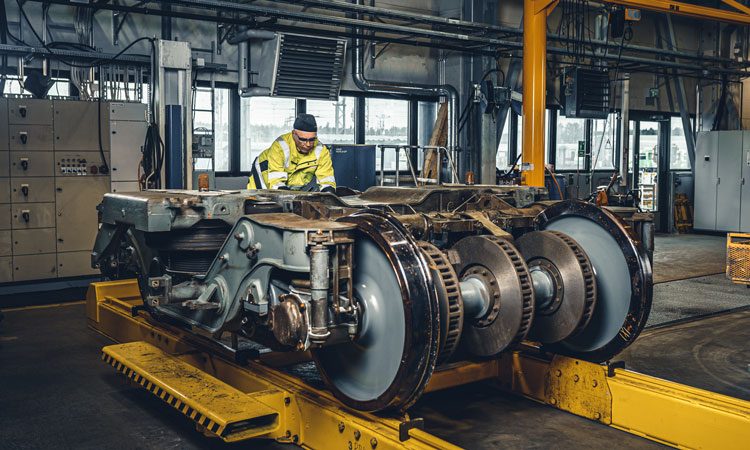 Credit: Atte Mäläskä
Bogies are the most significant components of a rail fleet in terms of lifecycle costs and traffic safety. VR FleetCare, which invests in data-driven and preventive rail fleet maintenance, and EKE-Electronics specialising in train information systems, have agreed on a product development project concerning bogie condition monitoring. The new analysis and optimisation methods developed as a result of this agreed cooperation will significantly improve rail fleet maintenance.
Data-driven maintenance will, in addition to creating significant cost savings for the rail fleet owners, increase safety and enhance the usability of the rolling stock. Trains keep on moving and serving the customers when they are directed to maintenance only when necessary. Furthermore, train traffic will operate more reliably when it is possible to predict rolling stock malfunctions before they cause disruptions in traffic.
Mikko Alanko, Director of Digital Services at VR FleetCare, said: "The interest in condition-based and data-driven maintenance is strong in the rail industry. This cooperation with EKE provides us with new ways to carry out bogie condition monitoring and serve our customers. Our aim is to generate savings of approximately 10-15 per cent with this new method."
A technical solution that is innovative on a global scale
The cooperation is based on VR FleetCare's technical rail fleet expertise as well as fleet maintenance optimisation and EKE-Electronics' experience in train automation systems and remote condition monitoring.
EKE's remote monitoring system and data analytics of the British company Humaware that was acquired by EKE in early-2019 are utilised in this solution. The aim is to develop a system providing data that predicts the maintenance need of bogies by using sensor technology and a smart combination of cloud and edge computing.
Sensors and data transmission systems will be installed in VR Group's locomotives and electric trains with more extensive results of the development work expected in 2020.
Karl Lönngren, Director of Digital Services at EKE-Electronics, said: "Both VR and we have great expectations concerning our cooperation. The software and sensor technology expertise combined with the analytics of our British subsidiary Humaware will make us forerunners in bogie condition monitoring. Our systems related to remote monitoring of trains are currently being deployed in Australia and on the London Underground. We believe that the cooperation with VR FleetCare will strengthen the position of both parties on the international market."