Interfleet Technology celebrates milestone at the forefront of the industry
International rail consultancy celebrates its 15th anniversary as it looks set to post record-breaking turnover figures…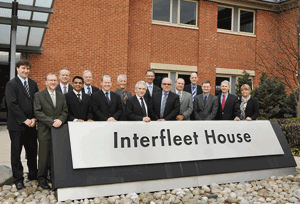 David Rollin and other senior Interfleet staff outside Interfleet House, from L to R: Richard Tapping, Financial & IT Director; David Curtis, Resources & Communications Director; Sven Odeen, Regional Director Sweden; Amit Ramteke, Regional Manager, India; Neil Wilson, Technology Director; Peter Dudley, International Business Director; Ross Twyford, Regional Manager New Zealand; David Rollin, Managing Director; Martin Ward, Business Integration Manager; John Cumberland, Chairman; Brian Hastings, Regional Director Australasia; Lars Walther, Regional Director, Central Europe; Jonathan Wragg, UK Regional Director; Larry Kelterborn, President, Interfleet Technology Inc; Karin Johansson, Regional Director, Norway.
UK-based rail consultancy Interfleet Technology is hoping to celebrate its 15th anniversary in style this month as it looks set to post record-breaking turnover figures.
Since being the subject of a management buy-out from British Rail in 1996, Interfleet Technology has flourished under the guidance of Managing Director David Rollin and his fellow directors, growing from a 99-employee operation in an office in Derby, to an internationally-operating market leader turning over more than £50m, with 22 offices across the world.
Interfleet Technology's growth and increased demand for its services has seen the company align its multi-disciplined offerings into various different service groups to mirror its three main markets – rolling stock, railway systems and strategic solutions, with specialist teams providing unique insight for clients around the world.
Challenges posed by operating an international company have been met by the creation and empowerment of a network of regional offices which support the individual needs of local markets but can count on the intra-group expertise when required.
David Rollin said: "Since our early days, we have been driven by our vision for Interfleet to be recognised on the international stage as a leading name in the rail industry.
"We have expanded and diversified throughout our 15 years of growth and the unrivalled expertise of our consultants has always been a key area of investment for the business. The unique insight they provide to clients around the world is what has kept us at the forefront of an industry that is enjoying a remarkable renaissance."
An internationally-recognised market leader in a competitive industry, Interfleet Technology has increased its international reach, turnover and profits year-on-year, weathering the recession thanks to its extensive network of regional offices, which means the company is not reliant on any one economy.
Despite growing the group's turnover 9-fold since the 1996 management buy-out, David Rollin admits that he never expected to find himself running a large private sector business when he first joined British Rail.
He said: "It's been an exciting adventure – when I joined British Rail I didn't see myself as an entrepreneur, but having grasped the unexpected, and slightly daunting, opportunity to stage the MBO of Interfleet from British Railways Board during the privatisation of the UK rail system, the past 15 years have been totally focused on growing the business around the world, with culture, cashflow and communications being three of my main watchwords.
"Essentially, Interfleet is in the business of promulgating information externally to clients and internally to employees so the importance of good communication cannot be overstated, particularly in an organisation with such an extensive geographic reach as ours. Our success hinges not only on the quality and expertise of our people across our regional office network but also on our ability to rapidly harness their talent and that demands first class communications.
"Interfleet is a relatively fast-moving business currently delivering over two thousand assignments a year. It's fair to say that if we weren't adding value for our clients, we would never have reached the milestone of our 15th anniversary – so we must be doing something right.
"With its green and efficient credentials, rail is currently undergoing a worldwide resurgence and Interfleet Technology is proud to be at the forefront of an industry that is really going places."
For more information about Interfleet, visit www.interfleet-technology.com