Network Rail opts for ATEÏS solution at Kings Cross
The ongoing development of Kings Cross station in London will create a world-class transport hub for the 21st century…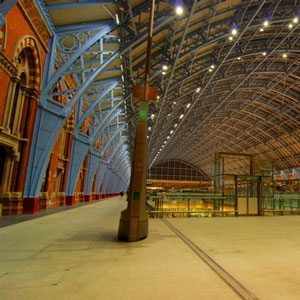 The ongoing development of Kings Cross station in London will create a world-class transport hub for the 21st century that will be handling an estimated 60 million passengers by 2020. A crucial part of any major modern railway terminal is the public address (PA) and Voice Alarm (VA) system, which must be able to deliver clear announcements to all areas so that passengers and staff alike know what is going on.
Fourway Communications who are the rail specialist integrator at Kings Cross selected specialist manufacturer Ateis UK is playing a pivotal role in the Kings Cross project by supplying a state of the art system. The equipment it designs and manufactures will bring digital clarity and ease of use to the renovated and restored Kings Cross. Network Rail is investing £500 million in the site to create a transport centre that is a gateway not just to the rest of the UK with local and national rail services but the rest of Europe through the Eurostar station at neighbouring St Pancras.
Passengers need to know when trains are leaving or arriving and what platforms they have to get to. There is also the personal safety aspect of alerting people when there is a hazard like a slippery or uneven surface. The system provides a voice to communicate with passengers adding value and peace of mind to their journey experience.
Behind the scenes up to 80 pre-recorded safety messages are stored digitally on the PA/VA system to complement the train announcement messages. This means that staff always know what is happening and passengers get the information they need for their journeys and feel comfortable while in the station. All this makes for the smoother running of a massive transport centre dealing with hundreds of trains and thousands of travellers every day.
Richard Osborne, Design Manager of Fourway said:" The selection process of the manufacturer required careful consideration that the installation, commissioning and complex migration stages could be carried out with minimum risk to the operation of the station, whilst also providing a cost effective solution, and to date the Ateis system has proven itself in meeting all those requirements".
The Kings Cross project continues, with work on platforms 1 to 8 scheduled to finish by the end of this year, the restoration of the main roof and Victorian buildings due for completion by mid-2012 and the opening of a new public square on the site of the old concourse by late 2013.