Network Rail names new route Managing Director
Network Rail has named Jo Kaye as its new route Managing Director…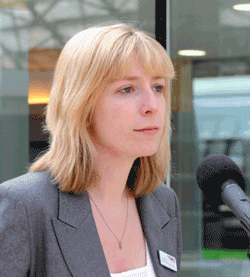 Jo Kaye, LNW route Managing Director
Network Rail has named Jo Kaye as its new route managing director, with responsibility for the day to day operation of over 2,000 miles of railway on the London North Western route.
The route covers the west coast main line from London Euston to the Scottish border north of Carlisle and the line from London Marylebone to Snow Hill in Birmingham. It takes in the major conurbations of the West Midlands, Greater Manchester and Merseyside.
Jo, 37, is currently the route director, but in an expanded role that takes effect in October, she will assume responsibility for maintenance and asset management as well as operating matters.
On her appointment, Jo Kaye said: "The route is big and varied. It ranges from the west coast main line with its ultra fast tilting trains, through major urban conurbations heavily used by commuters to rural lines in Lancashire and Cumbria, some of which have little more than a handful of trains a day. In addition, it is one of the busiest mixed freight routes in the country, handling 27m tonnes of goods a year, so there are plenty of challenges ahead.
"However, I have a great team on the LNW route and I am looking forward to working with them and our customers to make the railway the very best we can."
The appointment comes as part of Network Rail's move to devolve more power, responsibility and accountability away from the centre and into new business units. As route managing director, she will be responsible for:
safety
all customer service matters
asset management and spend
operations
planning and delivering maintenance
delivering some renewal and enhancement work
The new business unit will be empowered to be innovative and creative in its method of working, providing novel solutions to everyday issues, yet remaining within a framework designed to make the most of network benefits, reduce costs and provide a seamless service for customers and passengers.
Related organisations
Related people