eBook: Digital projects and strategies in rail
With continued progress in rail's digital transformation, Global Railway Review has produced this eBook to showcase a variety of developments and exciting projects that are utilising digital solutions.
As the rail industry continues on its journey towards digitalisation, many players in the sector are striving to ensure rail becomes the preferred mode of transportation for people and goods. But to acheive this ambition, rail must become more competitive when its comes to safety, reliability and performance. A key enabler for this step change is the utilisation of digital technologies and innovation.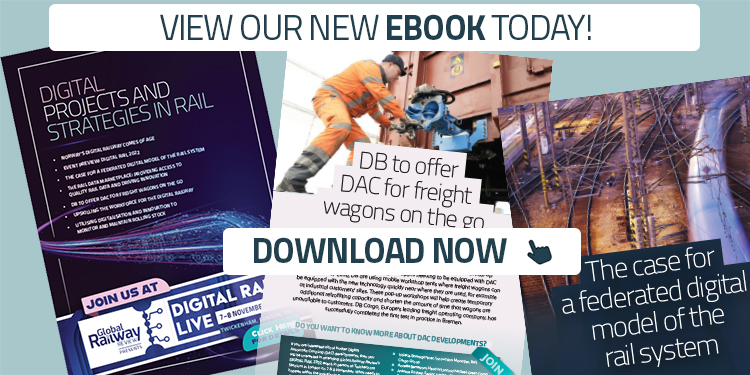 This eBook from Global Railway Review pulls together some of the key content recently published in our print magazine and on our website – you'll find some useful links to help you understand more about rail's digital transformation, including:
Norway's digital railway comes of age
Event Preview: Digital Rail 2022
The case for a federated digital model of the rail system
The Rail Data Marketplace: providing access to quality rail data and driving innovation
DB to offer DAC for freight wagons on the go
Upskilling the workforce for the digital railway
Utilising digitalisation and innovation to monitor and maintain rolling stock.
And if you are interested in any of the topics presented in the eBook and want to learn more about rail's digital transformation, then Global Railway Review's Digital Rail event is the place for you! So secure your ticket at Digital Rail 2022, taking place on 7 & 8 November 2022 at Twickenham Stadium in London, UK.